By: Rpf Gakwerere
Since the 13th July 2019, Pilato hasn't been seen by the public, even his paid minions aren't sure where the brutal dictactor is. Obviously, the king doesn't have to tell his oppressed and enslaved subjects anything.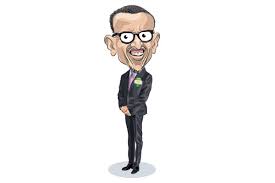 From reliable source, Pilato has been held up in different night meetings with his security chiefs; and meeting his numerous witch doctors from West Africa at his Gitarama home where his mother is buried.
Diane Rwigara's letter landed at his desk after waking up from an afternoon nap. Once in Rwanda, Pilato spends day time sleeping and night time meeting his security assassins, underworld fixers from different parts of the world, money launderers, black market weapons traders, listening to military communications, witch doctors….etc. The man is a mucecezi – omusezi.
Pilato will only appear at his office during day time when he has an appointment to meet foreign dignitaries – delegations or an important meeting; otherwise, day time, it's for the skinny dictactor to be in his king size bed while at night he conducts different meetings with all sorts of underworld criminals.