By: Rpf Gakwerere
Pilato has directed all the money that has been received through the sale of illegal mineral from DR Congo to his dreaded intelligence services.
Since January 2019, when accidental president Felix Tshisekedi allowed the free movement of RDF inside DR Congo, illigal acquired minerals have also increased in Rwanda, and now, Pilato has directed his security apparatus – DMI's external intelligence wing – Uganda and Burundi desk, to use in their callous operations funds raised from illegal trade of minerals.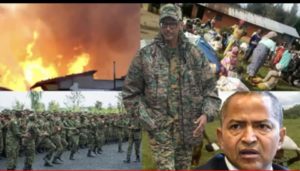 With black box funds increasing, expect deadly DMI operations in the region. Black box funds, are intelligence funds used for clandestine operations. With Pilato, he would rather starve oppressed and enslaved Rwandans, but funds for these callous operations remain available and increasing on each financial year.
Dear Ugandans, get ready for more assassinations and spreading of blood in the streets of Uganda. Key targets will be high security personnel, political personnel, business personnel…etc, who have been identified by DMI as harbouring views that questions the junta regime in Kigali.
With increased influx of well sponsored murders, the Wembley operation methodology needs to be re-introduced to deal with an external threat. Or the Burundi operation methodology needs to be introduced in Uganda, severe punishment for those causing insecurity of an independent state.
Foreign terrorist thugs with their internal collaborators shouldn't be treated softly, these are callous killers who are around to cause carnage at all cost without any single pity.