By: Rpf Gakwerere
Winnie Byanyima has just been appointed as new UNAIDS Executive Director. Ms Byanyima has more than 30 years of experience in political leadership, diplomacy and humanitarian engagement.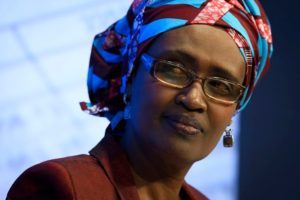 The United Nations Secretary-General, António Guterres, appointed Ms Byanyima as the UNAIDS Executive Director and United Nations Under-Secretary-General following a comprehensive selection process that involved a search committee constituted by members of the UNAIDS Programme Coordinating Board. The UNAIDS Committee of Cosponsoring Organizations made the final recommendation on the appointment to the Secretary-General.
Ms Byanyima brings a wealth of experience and commitment in harnessing the power of governments, multilateral agencies, the private sector and civil society to end the AIDS epidemic around the world. Ms Byanyima has been the Executive Director of Oxfam International since 2013. Prior to that, she served for seven years as the Director of Gender and Development at the United Nations Development Programme.
N.B: HOW WILL CRIMINAL PAUL KAGAME AND HIS MENTAL SOCIAL MEDIA MINIONS WHO OPERATE UNDER HIS OFFICE LOOK AT THIS APPOINTMENT AFTER YEARS OF HARASSING MS WINNIE BYANYIMA ON TWITTER FOR MERELY EXPRESSING HER FREEDOM OF EXPRESSION WHILE ANALYSING ABOUT THE SATANIC SYSTEM RULING RWANDA.
GOD DOESN'T FORGET GOOD, KIND HEARTED AND UPRIGHT PEOPLE, MIS WINNIE BYANYIMA WAS THE RIGHT CANDIDATE FOR THIS POST WHICH WAS VACANT SINCE MAY 2019 AFTER THE RESIGNATION OF THE THEN EXECUTIVE DIRECTOR MICHEL SIDIBE.