By: Rpf Gakwerere
As you may know the factory TRUST INDUSTRIES belonging to Claver Mugabo is going to be auctioned due to a $12M he has towards Development Bank Of Rwanda (BRD).
All this started as Claver Mugabo was a simple clerk working for Kazoora Bajeneza who had a cleaning and interior design company in Kigali, Rwanda. Claver Mugabo was a devoted staff and a saved christian (Murokore) who couldn't miss any church service. He fell in love with a Rwanda born girl/sopecya girl to whom he got married until this day.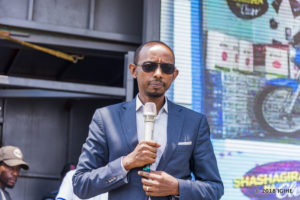 As Kazoora Bajeneza's business was going down, Claver Mugabo was spotted by Gen Fred Ibingira because both wives are related and he picked interest in the business, he discussed it with Claver and they agreed that they were going to start a cleaning company. That's how TRUSTCO started with Claver Mugabo as the owner and Ibingira as the ghost shareholder, the main shareholder and chief financier.
TRUSTCO got all juicy cleaning contracts in Rwanda. In 2010, Claver Mugabo was introduced by Byusa Marcel, criminal Paul Kagame's nephew and Jack Kayonga the then BRD's Director General. After this introduction, these two men promised to finance his projects through Development Bank Of Rwanda (BRD) of which Jack Kayonga was the director General.
Claver Mugabo wanted to buy SOCOBICO, to those who lived in Rwanda before 1994, this was a factory which produced toilet papers and sanitary pads for women, it belonged to Mbonampeka who was a minister of justice in dictactor Juvenile Habyarimana's government. This factory that Claver Mugabo wanted to buy – SOCOBICO was also wanted by Gatera Egide but since Claver Mugabo was the new kid on the block, Gatera Egide got a call from Gen Fred Ibingira to give Claver Mugabo a chance. Gen Fred Ibingira was Clever Mugabo's godfather.And this phone call from Gen Fred Ibingira made Gatera Egide to pull out, but Egide Gatera did not appreciate this move.
Claver Mugabo won the auction and owned SOCOBICO, and he invested heavily in his business, buying a land in Bugesera where he built a mega factory for cleaning products changing the name from SOCOBICO to Trust Industries. He had a good relationship with Development Bank Of Rwanda (BRD) who financed his business regardless of poor servicing of his loans.
They kept pumping money in his business until he accumulated a $12M in debt. When James Musoni was the minister of infrastructure, Clever Mugabo blamed him for not connecting water to his factory, thus affecting factory production, his factory needed constant water for production machines and cooling heavy processors.
Clever Mugabo invested in the water supply something that was was supposed to be done by the government, especially the ministry of infrastructure which was under James Musoni.
Due to his close relationship with the new Director General of Development Bank Of Rwanda (BRD), Mr Kanyankore, who is currently serving a 7 years term jail due to mismanagement and embezzlement, Claver Gatete land where his factory is built was evaluated to $5M, obviously the land was overpriced. And this loan was given to Clever Mugabo to help him construct available constant supply for the factory.
In early 2018, When started failing to service the loans, a team of auditors from Development Bank Of Rwanda (BRD) decided to go and run his business in order to start repaying the bank loans. This team from BRD was totally surprised to find out that the factory wasn't even making $30000 per month. These auditors then evaluated the factory (machines, raw materials, land etc) the value was not even $5M. Now the question was where is the rest of money? Development Bank Of Rwanda (BRD) had already loaned Clever Mugabo around $18 Million USA dollars.
From 2018 up to the time when Rwanda decided to close his borders with Uganda, Development Bank Of Rwanda (BRD) was slowly evaluating Clever Mugabo's wealth with the bank taking control of his houses and painfully investigating him to see if he didn't launder any wealth outside the country.
Then came the border closure; for every misery some people gain from it, as the government of Rwanda decided to close its borders with Uganda, only CLEAR products from Clever Mugabo were on Rwanda market and the sells shoot up to 1 billion francs per month for his factory which was by now making less than $15000 per month before any expenditure.
After this rise in sells for his poor quality products, Claver Mugabo got a bargaining chip, he rushed to Equity bank showed them his sales and asked them to buy off his loan from BRD. Equity was thrilled and wrote to BRD showing interest in buying off the loan, BRD replied that they could buy off the loan under certain conditions that equity agreed.
Gatera Egide who was always celebrating at the problems that Clever Mugabo was going through came to know that Claver Mugabo's fortunes are soon changing, Gatera Egide who manages part of criminal Paul Kagame's wealth rushed to his boss and lied him how Clever Mugabo is James Musoni's worker and he has always helped him to launder money through his company. You have to remember how James Musoni while a minister totally gave hard time Claver Mugabo, refusing to extend sufficient water supply to his factory.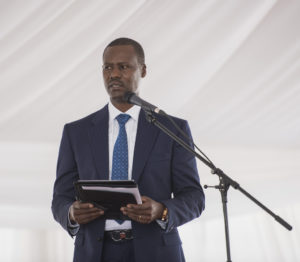 Gatera Egide who was still bitter at Claver Mugabo won the auction to buy SOCOBICO, went to his boss – criminal Paul Kagame, with head chopping information which were mere lies based on hate and jealous. Egide Gatera informed his boss how Clever Mugabo's factory was making money since he, Kagame closed the borders between Rwanda and Uganda.
Criminal Paul Kagame halted everything, stopping BRD from selling the loans to equity bank. The junta created a commit chaired by the prime Minister to study Claver Mugabo's situation, but in the meantime, BRD has published the auction of Clever Mugabo's factory before the 30 day notice they are supposed to give expired.
Egide Gatera is now the main person behind the acquisition of Claver Mugabo's factory – Trust Industries, but because the evaluation of BRD is under a loan which is now around $12 millions, BRD will even sell his private properties including his mansion in kimihurura.
Due to evil Egide Gatera and criminal Paul Kagame, in few days, the once tycoon, role model will be without his business and not even a place to sleep. And this comes when he had got an opportunity to start repaying the bank loans as his factory has got exclusive Rwanda and eastern DR Congo markets due to border closure. In few weeks time, Claver Mugabo will be a pauper.
THIS IS HOW THE MAFIA OPERATES IN THE SATANIC ENCLAVE.
N.B: you can follow me at – Robert Patrick Fati Gakwerere page (Facebook page) or at my blog rpfgakwerere.org.
However for those in the enclave – Rwanda, the blog rpfgakwerere.org was blocked by the junta regime it can't be accessed unless you are using a VPN.