By: Rpf Gakwerere
In the potato enclave (Rwanda), intelligence gathering and surveillance are at the forefront for regime survival. Criminal Paul Kagame's regime has survived through intelligence operations of kidnappings, incarcerations, torture and assassinations.
Now, under Covid19, the satanic regime has instructed all hotels, restaurants and coffee shops to register all customers who visit their premises with immediate effect. They have been instructed to register clients full names, telephone numbers, time of visits and district of residence. This is giving personal data to businesses that have no single clue on data protection, they aren't trained or have the capacity to securely keep such personal data.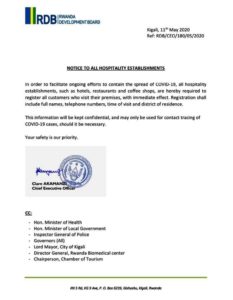 Do these segments of hospitality sector been trained in data protection? Will these personal information data be used for specified or explicit purposes as stated in the document below? Do they have the capacity to secure collected personal information? How long will these personal information data be kept before being erased/destroyed? Would you handle your personal information to a coffe shop in downtown Kigali or elsewhere in the potato enclave? In the potato enclave, this kind of data collection is part of a grand scheme of monitoring, policing and surveilling the already oppressed, enslaved, starving and unemployed citizens.
————————————————————————————————————
N.B: you can follow me at – Robert Patrick Fati Gakwerere page (Facebook page), @RGakwerere (tweeter) or at my blog – rpfgakwerere.org.
However, for those in the enclave – Rwanda, the blog rpfgakwerere.org was blocked by the junta regime, it can't be accessed unless you are using VPN.