In February 2019, the enclave fed people of the greatlakes region on how it has successfully sent its first initial satellite into low – earth orbit.
Public relations trolls from Pilato's office and DMI flooded social media praising the brutal dictactor for leading the potato enclave into space. On that day of February 2019, Pilato's office told gullibles who still listen and believed in their PR lies that, " the satellite is expected to provide broadband internet to remote schools in Rwanda." Unbelievable, the liars were talking of broadband band in rural areas before even bringing electricity and water in rural parts of the potato enclave.
This is what Pilato's mouthpiece, The New Times talked about the event, " for Rwanda, plans to launch its own satellite, and the bigger plans to initiate the long-term space programme, were first announced back in 2017. A model of the Rwanda satellite prototype was first displayed last year by the Japan-Rwanda team of experts during the 2018 Transform Africa Summit in Kigali. Having a satellite in the orbit in today's world is considered a leap in technological development."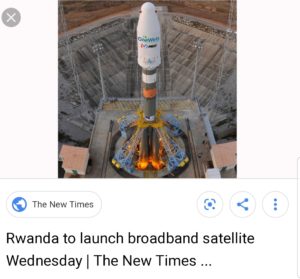 Since the scam, the satanic system ruling the enclave has never updated its oppressed, enslaved and starving citizens on the progress of the project.
As Pilato was feeding lies to oppressed and enslaved Rwandans about launching satellite to space, trust, few Rwandans buy to Pilato's crap. Unfortunately, in Kampala, gullibles bought the lies. On that day, I received numerous tags from Ugandan gullibles, some noting how Pilato is a genius and others wishing the Lord to have given them Pilato as their president.
For Burundians and Congolese, they know dictactor Paul Kagame alias Pilato's lies very well and brutality, to my shock, Kampala dwellers were the only people who bought these lies of sending a satellite to space.
In short, this was a scam project that Pilato used to swindle public coffers of the poor potato enclave.