By: Vision Reporters
It is alleged that he was kidnapped, bundled into a car and driven through Cyanika border point.
CRIME
On April 7, 2015 Rwema Gendarme, a traditional leader of the Banyamulenge people in the Democratic Republic of Congo (DR Congo), left his home in Bugolobi to Goma after bidding farewell to his wife, Prossy Boonabaana and children.
When he reached Kabale district, Gendarme called his wife and told her he would spend a night at a hotel before embarking on his journey the next day. "He told me he was too tired and had decided to rest and proceed the following day to DR Congo," Boonabaana told Sunday Vision.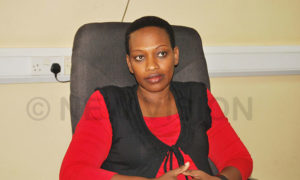 On April 8, 2015, he called his family again to let them know he was on his way to Goma. But as fate would have it, Gendarme had been trailed by security operatives. Bonabona claimed her husband was pulled out of his vehicle in Kisoro town. "He called me and told me he was being kidnapped by Rwandan soldiers before he suddenly hang up," she said.
The kidnap
It is alleged that he was kidnapped, bundled into a car and driven through Cyanika border point. He was allowed to call his family once again and that is when he contacted Boonabaana. "The day that he was kidnapped, his captors left him with his phone from 11:00 am to 5:00 pm and they told him to call whoever he wanted, including President Yoweri Museveni for nobody was going to save him," Boonabaana said.
She added that her husband never took them seriously at first and so he did not bother calling those powerful people that he was being advised to call.
"One of the reasons he did not do this was due to the fact that he did not see why Rwanda would have any interest in him, given that he is Congolese. He had lived in Uganda for over 17 years while doing business between Goma and Kampala without minding the politics of Rwanda.
It is due to not taking his arrest seriously that he told me not to go to the media. He perhaps thought that he could handle the situation; whatever it was," Boonabaana added. Gendarme, came to
Uganda in 1999 as a political refugee following the invasion of Dr Congo by Uganda and Rwanda. He lived under government protection for five years but later made peace with former president Joseph Kabila and thus, decided to go into private business. But Gendarme was mistaken.
"His last telephone call to me was at around 5:00pm, telling me he was in a Rwandan military vehicle as a prisoner and being driven to Kigali. This time, he sounded so frightened and with a panicky voice asked to take care of myself and the children.
I burst into tears, wondering what was exactly going to happen to him, especially under Rwanda detention given the previous threats to his life,'' she added.
"I made calls to some of my relatives in Kampala and my step-children in Canada about what had just happened to their father. The following day, in the morning, I contacted the Congolese Embassy to report his disappearance and how he had been kidnapped by Rwanda, according to his last telephone conversation.
Later, I also reported to the Rwandan High Commission in Uganda," she said. She added that she contacted Interpol Uganda, who took her statement and promised to contact Rwanda and give her the feedback the following day.
"The following day they told me that they could not trace him through their counterparts in Rwanda. They, however, told me that they were unable to do much since he was a foreigner. However, I told them that they had a duty to look for him since he was a permanent resident for over 15 years and he had married me. They never listened to me," Boonabaana added.
No more patience
Two days after the kidnap, Boonabaana said she lost patience and ran to the media. She also sought help from the Police and international organisations such as the United Nations High Commissioner for Refugees.
She also decided to travel to Kigali and she was advised to see a certain general that was charged with the responsibility of keeping all the Congolese that were being arrested.
"I went to Pentagon (Rwandan military headquarters), where this general's office is located. I did this with a lot of confidence, partly because this general was well known to my family. His family and mine have known each other since the 1970s from Nakasongola and his mother is distantly related to mine, but this general dodged me for a whole week.
One of the people advised me to 'ambush' him at a wedding where his nephew was getting married to my cousin. I did this and surely got him. "He then ashamedly gave me his private phone number and advised me to call him. I called him several times and he declined to answer my calls.
These were the worst days of my life for I had left my children, including the 10-month-old with a maid. I had also changed my travel ticket more than three times hoping that I would get a lead to where my husband was being held," Boonabaana said. After two weeks of despair and frustration, she decided to return to Uganda. But all was not lost. Her relatives in Rwanda promised to help locate where her husband was being held.
"I was also advised by these same people never to return to Rwanda because I could also get kidnapped," Boonabaana added.
Activism
Boonabaana said, however, through her activism, she has met other women whose husbands were kidnapped and given a voice to them. "We recently formed an organisation called the Self Worth Initiative to give a voice to these women who are predominantly refugees.
It is through this advocacy that we petitioned every institution in Uganda, including the presidency. "This yielded results and we saw changes in the Police Force," she said. She also noted that she is happy some of the individuals who participated in her husband's kidnap have since been arrested and are currently in court.
No response from Rwandan embassy
Efforts to get a comment from the Rwandan embassy in Kampala proved futile. In 2017, the Chieftaincy of Military Intelligence arrested seven senior Police officers who were later arraigned before the Military Court Martial chaired by Lt Gen Andrew Gutti.
They were charged with committing abuses against refugees in the country, including repatriating some of them to their countries, where they faced threats to their lives. Those arrested included the Commandant of the Special Operations Unit, Nickson Agasirwe and Joel Aguma, the commandant of the Police Professional Standards Unit.
https://www.newvision.co.ug/new_vision/news/1505911/woman-hunts-husband-kidnapped-ago