By: Rpf Gakwerere
I always tell criminal Paul Kagame's goons and sycophants that, it's a matter of time before the satanic system they are always praising and serving swallows them; obviously greed can't allow them to see. While treacherous assassin Gen James Kabarebe and criminal Paul Kagame are involved in internal cat and mouse war fare, the satanic system hasn't spared other goons and sycophants. It's now the turn of Serge Kajeguhakwa.
Who is Serge Kajeguhakwa's father – Valens Kajeguhakwa?
Serge Kajeguhakwa's father is Mzee Valens Kajeguhakwa, he was a member of parliament in post genocide Rwanda, and was the owner of Africa Continental Bank ((BACAR) which was grabbed by criminal Paul Kagame in 2001.
The African Continental Bank of Rwanda (BACAR) was established around 1983 and in which Valens Kajeguhakwa held shares with other personalities during dictactor Juvenale Habyarimana's era. After 1994 war, he retained the bank as other shareholders had fled the country.
In post genocide government, during the era of president Pasteur Bizimungu, Valens Kajeguhakwa enjoyed a privileged relationship with former President Pasteur Bizimungu, a relationship which criminal Paul Kagame who was then the vice president and minister of defence didn't approve. The friendship between President Pasteur Bizimungu and Valens Kajeguhakwa started since their teenage years.
Why did Valens Kajeguhakwa's family flee the country in 2001 and their return from exile in September 2013
After criminal Paul Kagame overthrowing President Pasteur Bizimungu in internal war, and criminal Paul Kagame installing himself as the ruler of Rwanda, he went in brutal vendetta to crash all president Pasteur Bizimungu's allies, thus leading to Valens Kajeguhakwa fleeing to USA in 2001.
After Valens Kajeguhakwa and his family fleeing the Country in 2001, Criminal Paul Kagame went for his wealth, grabbing his bank – African Continental Bank of Rwanda (BACAR), lands, Petroleum depot, transport company and closing all his bank accounts while taking all the cash in them.
After fleeing the country, criminal Paul Kagame didn't stop his witch-hunt against Valens Kajeguhakwa, creating the usual concocted and fabricated stories that Valens Kajeguhakwa fled the country with stolen public funds worth $ 7 million US dollars.
The then director of prosecution, Gerald Gahima who is now in exile noted, "Valens Kajeguhakwa has stolen more than US $7 million. He stole the money from government agencies and former officials of the Hutu-led government who fled into exile after genocide. Kajeguhakwa should be considered a fugitive who should be arrested and prosecuted for this crime. We will use all possible international instruments to have him arrested so that he can answer for this act".
However, after the birth of Rwanda National Congress (RNC), criminal Paul Kagame rushed to approach Valens Kajeguhakwa for reconciliation in fear that he may join the newly created political organisation of Gen Kayumba Nyamwasa. Criminal Paul Kagame through treacherous assassin Gen James Kabarebe approached Valens Kajeguhakwa through his son Christian Kajeguhakwa who was at this time involved in Nigeria's oil sector.
The reconciliation went smoothly, with criminal Paul Kagame returning some of the wealth he had grabbed, not African Continental Bank of Rwanda (BACAR). And on 12 September 2013, Valens Kajeguhakwa landed at Kanombe airport – Kigali from exile in USA. Valens Kajeguhakwa mistakenly thought that criminal Paul Kagame would never bite him again, the mistake his currently regretting as the satanic system grabbed yesterday, 30st August 19, the wealth of Serge Kajeguhakwa, the son of Valens Kajeguhakwa under an illegal auction.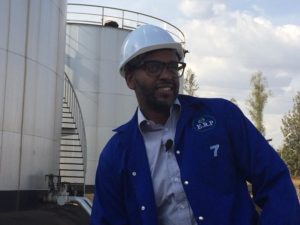 The Chronicle of yesterday's 30th August 19 auction of Serge Kajeguhakwa's fuel depot.
When Serge Kajeguhakwa and his family (brother, sisters and parents) came back to settle in Rwanda, it was all rosy between him and criminal Paul Kagame. He immediately said that he wanted to continue their business of fuel. His father Valens Kajeguhakwa owned fuel tanks – depots in Gatsata, Kigali. When they fled, the fuel tanks – depot were being managed by criminal Paul Kagame's appointed business associates under the ministry of trade framework.
On the term of reconciliation agreed between criminal Paul Kagame and Kajeguhakwa family, the tanks were handed back to Kajeguhakwa family and they started operating under their logo.
It was during this time that Serge Kajeguhakwa approached CVL and said that he needed a line of credit to supply fuel to his tanks. He was directed to Bank of Kigali (BK) which is exclusively owned by criminal Paul Kagame. Bank of Kigali gave him the loan but demanded the fuel tanks – depot as collateral assurance. After getting the loan, Serge Kajeguhakwa increased the petroleum import in the country. However, than serving the debts which was given to him at high interest rates, he went back for another injection debt at the same bank – Bank of Kigali.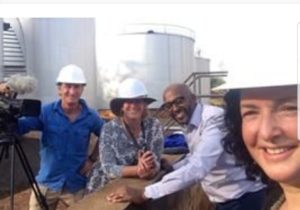 As of 2019, Serge Kajeguhakwa's debts to criminal Paul Kagame's bank, Bank of Kigali was in excess of $13 Million US dollars. From 2015, Serge Kajeguhakwa petroleum business was facing challenges from criminal Paul Kagame who was enforcing monopoly of the fuel – Petroleum business through his business manager – the ruthless Egide Gatera and Jeannette Kagame's brother, Richard Murefu.
According to our sources who are close to this investigation, they pointed out that in the middle of July 2019, creditors – Bank of Kigali took control of Serge Kajeguhakwa's petroleum operations, selling the fuel stock that was worth $ 5 million US dollars to his competitor, Egide Gatera. In other words it was criminal Paul Kagame under Bank of Kigali auctioning the fuel to Criminal Paul Kagame under Egide Gatera. As noted above, criminal Paul Kagame owns Bank of Kigali and Egide Gatera manages criminal Paul Kagame's business empire in the country – potato enclave.
And the $5 million US dollars was far less what Serge Kajeguhakwa owed criminal Paul Kagame's bank – Bank of Kigali. And because of this, under orders of criminal Paul Kagame, Brig Gen Dan Munyuza arrested Serge Kajeguhakwa and was kept in custody for few days and his father – Valens  Kajeguhakwa sought an appointment with criminal Paul Kagame, he went tobbeg him to release his son, tell criminal Paul Kagame that it was his sole business and his son made some bad business decisions.
Valens Kajeguhakwa begged Criminal Paul Kagame to not auction the only business, noting that his son ought to be released from Kacyiru police dungeon and be allowed to raise the funds which was remaining.
Criminal Paul Kagame accepted the offer and ordered the release of Serge Kajeguhakwa on the condition that he will bring the money and pay back the bank – Bank of Kigali. In early August, Serge Kajeguhakwa left the potato enclave and traveled abroad to raise funds needed to bail out his company. While outside the country, he contacted Mzee Tribert Rujugiro Ayabatwa, a person that criminal Paul Kagame detest to the core and blacklisted for elimination by all means necessary.
As the English say, each person has his/her days, this time, Serge Kajeguhakwa was spotted by criminal Paul Kagame's DMI boys embedded within Tribert Rujugiro Ayabatwa's business empire. Its these double agent boys that passed the report to their handler – assassin Brig Gen Dan Munyuza, and according to my source, the report was accompanied with pictures as proof of citing and evidence.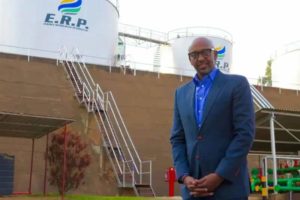 A fuming criminal Paul Kagame, ordered assassin Brig Gen Dan Munyuza to arrest him on his return. On his return, he was arrested at Kanombe airport and he was whisked to unknown DMI dungeon. His parents or any other relatives don't know his were abouts and criminal Paul Kagame has refused to grant the father of Serge – Valens Kajeguhakwa any audience.
And yesterday, 30th August 19, through an illegal auction, the fuel tanks – depot were auctioned, and Richard Murefu the brother of Jeannette Kagame Gasana won the auction of this magnificent fuel tanks – depot through an illegal auction that wasn't even announced. In other words, the Kagame family grabbed the fuel tanks – depot.
According to my sources, because of the secrecy of this illegal auction, the amount that the fuel tanks – depot was sold to Richard Murefu was kept secret. Did the fuel tanks – depot cover the remaining debts that the company owed to Bank of Kigali? Or the Kajeguhakwa family still owe criminal Paul Kagame's bank, Bank of Kigali!
N.B: you can follow me at – Robert Patrick Fati Gakwerere page (Facebook page) or at my blog rpfgakwerere.org.
However, for those in the enclave – Rwanda, the blog rpfgakwerere.org was blocked by the junta regime it can't be accessed unless you are using a VPN.