Opposition leaders and commentators in Rwanda are being persecuted by the authorities for "their speech and opinions", intensifying a culture of intolerance towards dissent, a human rights group has said.
"People are not free to express themselves on anything that might be seen as challenging the government or what it says," Lewis Mudge, HRW's Central Africa director.
"They take one word, and they create a crime for you," an anonymous YouTuber told HRW. "Here, the problem is talking the truth. If you do, they go after you."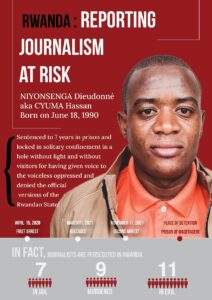 A popular YouTuber Dieudonne Niyonsenga, also known as Cyuma Hassan. His Ishema TV channel, followed by more than 15 million viewers, ran reports on critical issues from human rights abuses to corruption.
Last November, Niyonsenga was convicted on appeal to seven years in prison on fabricated charges of forgery, impersonating journalists, and hindering public works for being outside during lockdown without valid press accreditation.