By: Rpf Gakwerere
Currently, the potato enclave – Rwanda has maintained about a Division of about 10,000 troops in eastern DRC.
Since May, 2019, Rwandan forces have expanded their operations in Eastern DR Congo covering three eastern DR Congo provinces of Ituri, North Kivu and South Kivu.
This division is composed of special force units, former FDLR fighters who have been integrated in criminal Paul Kagame's army and reserved force units. And the overall commander of DR Congo operations is Maj Gen Eric Murokore, a veteran of different wars from the Uganda vs Tanzania war of 1979, the NRA liberation wars, RPA/F liberation war, in DR Congo – from Laurent-Désiré Kabila anti Mobutu offensive in 1996 to M23 war.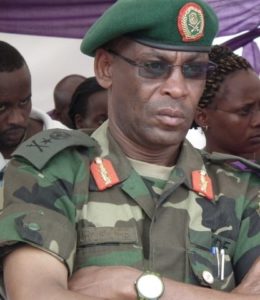 Maj Gen Eric Murokore is a product of war, and a Kagamist tool in all mineral resource wars in DR Congo. In future, I will be mentioning the three sector commanders of this division which has openly been operating in DR Congo since May 2019.
And don't forget, since May 2019, Rwanda Defence Forces in DR Congo has been operating while wearing DR Congo military uniform fatigues, this was after being approved in May 2019, Kinshasa, in a meeting between DR Congo's accidental president Felix Tshisekedi, DR Congo chief of Staff – Gen Celestin Mbala Munsense and Rwanda's chief of staff – Gen Patrick Nyamvumba.
N.B: you can follow me at – Robert Patrick Fati Gakwerere page (Facebook page), @RGakwerere (tweeter) or at my blog – rpfgakwerere.org.
However, for those in the enclave – Rwanda, the blog rpfgakwerere.org was blocked by the junta regime, it can't be accessed unless you are using a VPN.