By: Rpf Gakwerere
In Democratic Republic of Congo, the army said on Wednesday, 17 September 19, Sylvestre Mudacumura, the commander of a Rwandan FDLR rebel was killed during an hour long battle. Lt Gen Sylvestre Mudacumura was on International Criminal Court list of those wanted by the Hague court.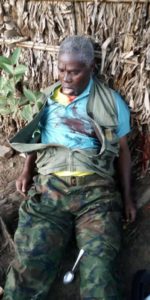 According to sources within DR Congo, Lt Gen Mudacumura, who has been commander of FOCA, the military wing of the democratic forces for the liberation of Rwanda or FDLR, was killed overnight in eastern Congo's Rutshuru territory, after a tip off by former FDLR fighters who had returned to Rwanda. Lt Gen Sylvestre Mudacumura was killed alongside top lieutenants of the organisation.
This source notes, the operation to eliminate FDLR's top commander was exclusively run by Rwanda's special forces without including DR Congo army. According to this source, this was done in order to avoid leaks of the target.
The source further notes, "DR Congo soldiers always sell information to FDLR by warning them in advance of any impending operation against the rebel group. After DMI getting a tip off from credible sources of former FDLR fighters, Rwanda special forces had to move in quickly after confirmation from surveillance."
The international court issued an arrest warrant for Lt Gen Mudacumura in 2012 for alleged attacks against civilians, murder, rape and torture in eastern Congo, where militia members have operated since the 1994 genocide in neighbouring Rwanda.