By: Rpf Gakwerere
As a corporal, I always post in deferent forums, that Rwanda's Directorate of Military Intelligence (DMI), is the second power blocker in the ruling hierarchy after criminal Paul Kagame. The potato enclave is a Military Intelligence ruled and controlled country. And what is currently happening in Goma, DR Congo, it's one in millions of examples.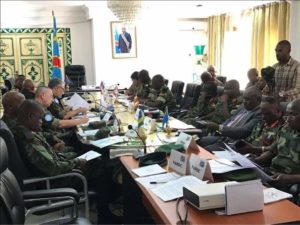 Since yesterday, 24/10/19, in Goma, DR Congo, there have been a two day meeting which brought together military leaders from Tanzania, Burundi, Rwanda and representatives from the United Nations Organization Stabilization Mission in the Democratic Republic of the Congo (MONUSCO).
While Uganda, Burundi and Tanzania sent lands force commanders, Rwanda sent the head of the dreaded Directorate of Military Intelligence, a notorious assassin – Brig Gen Vincent Nyakarundi to this crucial military operation meeting. This was a military operation meeting, not an intelligence operation meeting. Obviously, nothing criminal Paul Kagame does by mistake, he has reasons he sent the head of DMI, Brig Gen Vincent Nyakarundi than sending the commander of lands forces/Army Chief of staff, Lt Gen Jean-Jacques Mupenzi.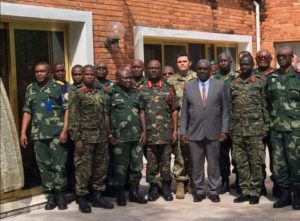 To criminal Paul Kagame, any political or military move is first and foremost based on his three concepts of intelligence gathering, intelligence penetration and intelligence elimination. And no one who knows criminal Paul Kagame very well expected anyone else rather than intelligence related delegates. This time, it's was the head of the dreaded Directorate of Military Intelligence (DMI) that represented Rwanda in the just concluded Goma meeting of regional military leaders.
This meeting follows up a similar meeting which was held in in the same City of Goma on September 13 and 14, 2019. These meetings are about studying ways of jointly conducting military operations against various rebel groups operating in Eastern DR Congo.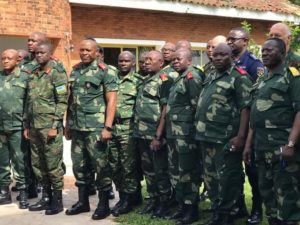 According to FARDC Head of Mitary Command, General Mbala Munsenge Celestin, the army commanders from the 4 countries have agreed in principle to conduct military operations against the armed groups, national or foreign, based in Eastern DRC.
According to report coming from DR Congo's chief of Defense forces' office, Military leaders of the Democratic Republic of the Congo (DRC), Rwanda, Uganda, and Burundi have secretly ageed to conduct military operations in Eastern DR Congo over the months of November – December 2019.
Related story: https://rpfgakwerere.org/2019/10/13/planned-military-operations-in-eastern-drc-the-military-will-be-conducted-by-drcs-fardc-rwandas-rdf-burundis-fdnbu-and-ugandas-updf-agreement/
————————————————————————–———-
N.B: you can follow me at – Robert Patrick Fati Gakwerere page (Facebook page), @RGakwerere (tweeter) or at my blog – rpfgakwerere.org.
However, for those in the enclave – Rwanda, the blog rpfgakwerere.org was blocked by the junta regime, it can't be accessed unless you are using a VPN.