By: Rpf Gakwerere
In the photo below, the ruthless, brutal and treacherous commander of J3, Gen James Kabarebe is peeping from the back.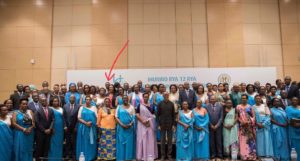 In the photo below, it shows why we need sociologists, social anthropologists, behavioral analysts and psychologists to study and describe the mental thinking of Nyarus, it's difficult to discribe them. Approach at your own peril.
For example, the photo below has wives of men that the brutal dictactor – criminal Paul Kagame dumped, oppressed and mentally abused, but their wives keep on hanging around criminal Paul Kagame and putting on fake faces. Political hypocrisy! You just wonder what kind of social fabric is this!
GOD OF SOGOKURU PROTECT ME AND THOSE WHO COME FROM ME FROM EVER MEETING FAKE CHARACTERS FROM THE POTATO ENCLAVE. THESE KILLERS OF GEN FRED RWIGEMA AND OTHER GREAT RPF AND NRM CADRES.