By: Rpf Gakwerere
Dear oppressed, enslaved, starving and unemployed Rwandans, forget about John Rwangombwa as Central Bank Governor, or middle age slay queen Soraya Hakuziyaremye as Central Bank deputy Governor. The real CENTRAL BANK GOVERNOR in Rwanda is Bertrand Ndengeyingoma, Co-Vice President Ange Kagame's husband.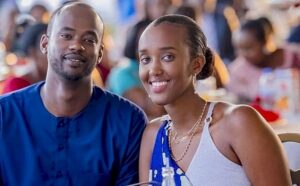 John Rwangombwa and Soraya Hakuziyaremye are aids to real Governor Bank of Rwanda (central Bank/BNR), Bertrand Ndengeyingoma. At Central Bank, Bertrand Ndengeyingoma, the real Governor, Rwanda Central Bank, operates under the camouflage of technical director/Research analyst.
Where there is cash, the Kagames have to control the place. They own and control the banking sector, they own and control the business sector, they own and control manufacturing sector, they own and control cargo/shipping sector, they own and control agriculture sector, they own and control top end hotels (tourism sector), they own and control Rwandair despite the government pouring millions of dollars, they own and control construction sector, they own and control sewage – waste collection business, they own and control Forex businesses, they own and control mineral sector/trade, they own and control real property sector……etc.
Currently, the Kagames assume to be Rwanda, reasons anyone who criticises or questions their human rights or economic excesses is perceived to be anti-Rwanda. In their mind and the mind of inept Kagamist goons/minions, the Kagames are now Rwanda.
The two entities, Kagame and Rwanda have been intertwined to be one, reasons when you question the brutal dictatorship of criminal Paul Kagame your labelled as anti-Rwanda by sick minds in Kigali. These sick minds can't separate Kagame and Rwanda as two different entities.
————————————————————————————————————
N.B: you can follow me at – Robert Patrick Fati Gakwerere page (Facebook page), @RGakwerere (tweeter) or at my blog – rpfgakwerere.org.
However, for those in the enclave – Rwanda, the blog rpfgakwerere.org was blocked by the junta regime, it can't be accessed unless you are using VPN.