By: Rpf Gakwerere
In the potato enclave ruled by criminal Paul Kagame; kidnapping, incarceration, torture and assassinations are regime policies. This is a satanic regime which has normalised human rights atrocities among its oppressed and enslaved citizens.
Like other innocent Rwandans who are being kidnapped by the satanic regime on daily basis, Wednesday, 11 December 19, was the turn of journalist Rashid Bugirimfura to be kidnapped. Since Wednesday, 11 December 19, his family members haven't seen or heard from him and his phone is off.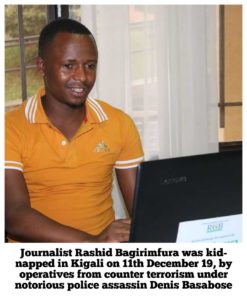 However, according to reliable sources, journalist Rashid Bugirimfura was kidnapped by 4 men from criminal Paul Kagame's counter terrorism unit led by a well known notorious assassin – CP Denis Basabose.
Journalist Rashid Bugirimfura is the managing editor and owner of rwandanziza.rw news outlet. Since his kidnapping, family members and friends have gone to different police stations asking if they have him in their custody, police denied of detaining him, instead encouraging the family to file missing person form.