The president of France, Emmanuel Macron is in Rwanda for a working visit, while in Rwanda, President Emmanuel Macron publicly acknowledged France's "overwhelming responsibility" in the 1994 genocide in Rwanda.
"France did not understand that, while trying to prevent a regional conflict, or a civil war, it was in fact standing by the side of a genocidal regime," Macron said Thursday following a visit to the Gisozi memorial in the Rwandan capital Kigali.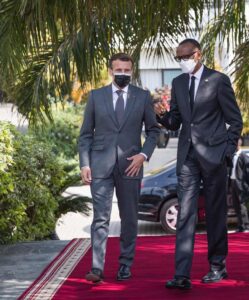 "By doing so, it endorsed an overwhelming responsibility," Macron added, in the strongest public admission of responsibility from a French leader to date.
Macron also vowed that "no suspected genocide perpetrator will be able to avoid justice" because "recognizing our past is also – and above all else – continuing the work of justice."
France has been blamed for allowing alleged Hutu perpetrators to leave Rwanda and to let some of them live in France, undisturbed, for years.
Macron's admission was based on the conclusions of the Duclert report, an independent report commissioned by the French Presidency, which established France's "overwhelming responsibility" in the genocide.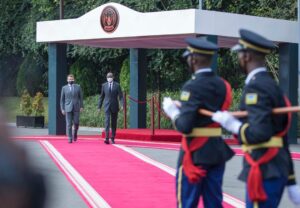 Meanwhile, neo conservative Hutu extremist leader – leader of CDR 2, Thomas Nahimana is still telling his neptunal ideologues that Criminal Paul Kagame died last year, and what oppressed, enslaved, starving and unemployed Rwandans are seeing is a double wearing a Kagame facial mask.
Obviously, anyone who has studied the satanic system ruling the potato enclave (Rwanda), knows without any single doubt that minus Criminal Paul Kagame, the system would collapse in a second due to various factors, one being intrigues and inter personal hatred among the ruling elites. Criminal Paul Kagame has managed his assassins and goons by dividing them, thus, minus him, these thugs would delete each other.
———————————————————————————————————–
N.B: you can follow me at – Robert Patrick Fati Gakwerere page (Facebook page), @RGakwerere (tweeter) https://twitter.com/RGakwerere?s=08 or at my blog – rpfgakwerere.org.
However, for those in the enclave – Rwanda, the blog rpfgakwerere.org was blocked by the junta regime, it can't be accessed unless you are using VPN.