By: Rpf Gakwerere
Imagine, someone asking you, "how would Treacherous Assassin Gen James Kabarebe spy the opposition at the same time planning to take over from Criminal Paul Kagame? He further noted its confusing."
The corporal's humble response was to ban this person from the page, the dude ought to be in farming or follow comedy pages than trying to understand complicated issues. Mostly, these are questions from those who went through criminal Paul Kagame's education system that banned critical and analytical thinking. For example, no one from MUK (Makerere University) can ask such a question.
In the 1990s, during the RPF struggle, criminal Paul Kagame was spying the opposition at the same time fighting against the Habyarimana regime. I wanted to refer this person to study cases i.e 1987 coup d'etat in Burundi, several coup d'etat in Niger, Nigeria, Burkina Faso case….etc. In 1979, after the coup d'etat in Equatorial Guinea, young Theodore Obiang Nguema Mbasogo who is still the president to present noted, "I was able to successfully overthrow the government of Francisco Marcias Nguema that I served in because I understood internal and external dynamics, and how the external factor, the opposition was weak." And on 29 September 1979, Francisco Marcias Nguema was executed by firing squad in Malabo at the orders of someone he once trusted, the current of Equatorial Guinea, president Theodore Obiang Nguema Mbasogo.
Intelligence information is key in any forced political changes. Intelligence information is totally crucial and important in both democratically or military takeovers. And treacherous assassin Gen James Kabarebe is a master on this. As criminal Paul Kagame once said, "intelligence information is key to regime survival."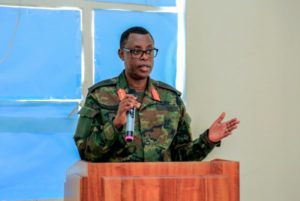 For treacherous assassin Gen James Kabarebe, the man has built a vast network of intelligence capabilities in Rwanda, in governments within the greatlakes region and in total control of those organisations that refer to themselves as "anti Paul Kagame."
—————————————————————————————————————————
N.B: you can follow me at – Robert Patrick Fati Gakwerere page (Facebook page), @RGakwerere (tweeter) or at my blog – rpfgakwerere.org.
However, for those in the enclave – Rwanda, the blog rpfgakwerere.org was blocked by the junta regime, it can't be accessed unless you are using a VPN.