By: Spy Report
TOM NDAHIRO, an extremist supremacists Rwandan tribalist, who uses counterfeit social media accounts, Peter Mahirwe and Kampire is calling for the dismembering of Henry Tumukunde's private parts.
TOM NDAHIRO is "peripheral neo-nazi experiment housenigger superbug" in Rwanda where imperial powers have been experimenting the post cold war extermination of black Africans.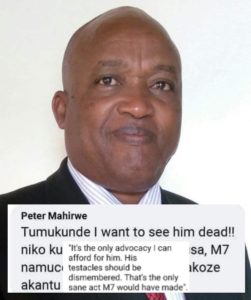 This is a project from 1884, where the USA, though present at the conference didn't take any colonies for herself because North America was supposed to be enough at the time.
TOM NDAHIRO is an expert propagandist who specializes in redefining African ethnology with a special focus on separating intellectually & culturally advanced, victims of injustice, genocide and entitled tribes Vs sub-human, primitive, pre-civilization genocidal, parasitic, intellectually & culturally primordial tribes that at best deserve to live in the jungle and those struggling for their lives killed like dogs.
There is a group of Ugandans led by ANDREW MWENDA who share similar views with TOM NDAHIRO & are regrouping to bring back a Kare Kayihura scenario in Uganda.
In all honesty I have no idea what Henry Tumukunde is being held for. I last met Henry Tumukunde in 2002 in a meeting where I don't believe he even noticed me. Therefore, I have nothing to do with his politics.
However, I feel duty bound to share my perspective on what is going on in our country and in the region so that Ugandans can ask appropriate questions. Our peace is not secure because there are imperial proxy gangs like that where TOM NDAHIRO is a member that will not allow freedom for fellow Africans.