By: Rpf Gakwerere
From the arctic weather of Bratislava to a city that has been a centre of learning in Holland. A city that has attracted thousands of students from all over the world – Den Haag, known as the Hague; the conference was divided in four panels and panel three was on Governance and Institutions. Panel three was a hive of interesting topics; panellists touched on different contextual issues from constitution governance, corruption, embezzlement, institutions failings, dictatorship, democracy….etc.
As these eminent scholars were deliberating, analysing and delivering their research finds, my mind was absorbing and trying to connect different research findings to Potato Enclave's (Rwanda) contemporary institutional failings. Governance where one man has created his inner ego as a state institution, an absolute ruler! A country where a single individual is the judicially, the legislature and the executive of a poor enclave – Rwanda. A governance were institutions are manned and led by incompetent individuals; nepotism being the main criteria in recruitment and selection.
When trying to analyse or interpret governance personalities, it is a natural acceptability that family members are not involved when analysing political personalities unless family members are part of the subject/involved. In case of the potato enclave – Rwanda, it is totally difficult to separate criminal Paul Kagame's extended or nucleus family from the political pandemonium sinking the country to biblical hell.
In his memoir, Failed States: The Abuse of Power and Assault on Democracy; Noam Chomsky noted that, "So we march on, following our leaders, toward an Armageddon of our own making." With the current status quo continuing, potato enclave – Rwanda is heading towards Armageddon and all indicators are in front of us, except for the blinded zealots who assume that the status quo is attainable.
Now, the enclave has reached to a point where a dictator's daughter is in charge of the president's office without any official announcement or appointment. In trying to build a Kagame dynasty, Rwanda's criminal ruler enormously put focus to his first child – Ivan Cyomoro Kagame. Criminal Paul Kagame admired General Muhoozi Kainerugaba's model and wanted Ivan Cyomoro Kagame to take the same route.
He was enrolled at the prestigious West Point military academy – USA in 2010, and in less than six months he was out of the military academy citing lack of interest in military life. He then enrolled in a main stream university, upon his graduation the father tried again to revive his military career by posting him under the tutorship of Major Ronald Rwivanga (Now Lt. Colonel) who was the head of intelligence in the presidential guard. In 2014, he was sent to South Korea for a three month course in counter intelligence, in his return he was posted at the ministry of defence under the office of the joint chief of staff – Gen Patrick Nyamvumba.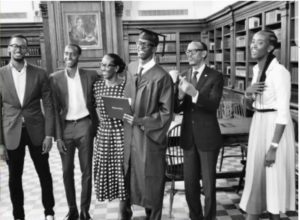 By early 2016, the young man was fed up with military life; he was totally not interested and stopped reporting for duty. At this point, he was already a captain without any proper military training or experience. Currently, Ivan Cyomoro Kagame is in USA as an investor in equity trading and money laundering of wealth plundered from DR Congo and Rwanda. His business operations are also in Angola and Dubai where he is making money in estate development. He is totally not interested in the army or has political ambitions.
After being disappointed by his first son, criminal Paul Kagame looked for another alternative in his dynasty – succession building and the second in line would have been Ian Kagame, unfortunately for the Junta. He came to know in 2016 that Ian Kagame isn't his real son, but Ambassador Eugene Gasana's child. This info is known by all oppressed and enslaved Rwandans, and the drama which led to Ambassador Eugene Gasana seek safety in USA.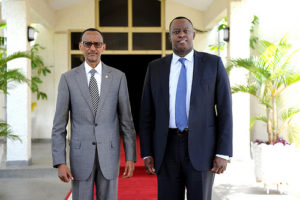 Within the Satanic regime, Ambassador Eugene Gasana was considered as super diplomat, holding two key diplomatic dockets at the same time. He was potato enclave – Rwanda's ambassador to the UN, at the same time being the minister for international cooperation.
Being in charge of criminal Paul Kagame's financial assets and business interests in western hemisphere, Ambassador Eugene Gasana took with him most of Kagame's financial assets and savings when he thought asylum in the USA, and he was granted protection by the USA authority due to the nature of threats against him and his immediate family. (Paul Kagame, Jeanette Kagame and Ambassador Eugene Gasana – topic for another day)
With Ian Kagame Gasana being out of the equation due to not having blood linkage to criminal Paul Kagame, the junta wouldn't invest much to the third son – Brian Kagame due to his medical conditions. It would be unfair or unethical to start discussing medical condition of this young man, especially at the time when the young man isn't involved in any government/public role.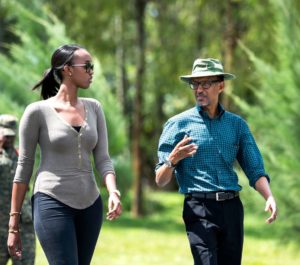 With all the boys out of equation in succession building, criminal Paul Kagame diverted his energy to his daughter Ange Kagame. In the next posting, I will be looking at Ange Kagame, a young lady who is shaking the corridors of power within criminal Paul Kagame's Kingdom. A young lady who is totally ambitious, keen, focused, ruthless and eager to rule or grab power if allowed; don't be mistaken by her baby face, she totally supports the killing and shedding blood of innocent people by her bloodthirsty authoritarian father – criminal Paul Kagame.
At the moment, all those scavengers and vultures within the president's office at Village Urugwiro know the extent at which this young lady can go and her ruthlessness. With criminal Paul Kagame not trusting or willing to leave power to his estranged wife, Jeannette Kagame Gasana, and issues of Ian Kagame Gasana always in his mind, with chief assassin Jack Nziza being put on the bench (agatebe), plans to crash treacherous assassin Gen James Kabarebe rolling, Ange Kagame is de-facto vice president in the making……… To be continued!!