By: Rpf Gakwerere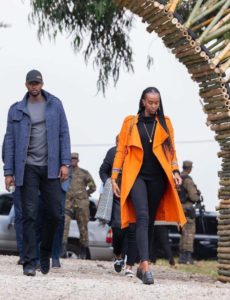 THE PRINCESS IS CURRENTLY IN A BATTLE OF SUPREMACY AGAINST INES MPAMBARA, DICTACTOR PAUL KAGAME'S CHIEF OF STAFF AND REAL PRIME MINISTER. THE RUTHLESS INES MPAMBARA HAS BEEN DOMINATING THE FORMAL GOVERNMENT, INSTALLING FEAR TO WIDER GOVERNMENT.
INES MPAMBARA IS ALSO DICTACTOR PAUL KAGAME'S SIDE DISH, AND SINCE PRINCESS ANGE KAGAME RETURNED BACK TO RWANDA FROM HER NEAR FAILURE MASTER'S DEGREE COURSE IN USA, SHE HAS BEEN INVOLVED IN OFFICE BATTLE WITH RWANDA'S WELL KNOWN BULLY, THE RUTHLESS INES MPAMBARA.
ACCORDING TO MY SOURCES WITHIN CRIMINAL PAUL KAGAME'S OFFICE – VILLAGE URUGWIRO, STAFF MEMBERS/EMPLOYEES WITHIN DICTACTOR PAUL KAGAME'S OFFICE ARE TOTALLY HAPPY AND SMILING SINCE THE RETURN OF PRINCESS ANGE KAGAME, BECAUSE OF HER EFFORTS TO REIGN ON RUTHLESS INES MPAMBARA, A BULLY WHO WAS MAKING LIFE HELL FOR DICTACTOR PAUL KAGAME'S PRESIDENTIAL OFFICE EMPLOYEES……..MORE ON THIS TO COME.
N.B: you can follow me at – Robert Patrick Fati Gakwerere page (Facebook page) or at my blog – rpfgakwerere.org.
However, for those in the enclave – Rwanda, the blog rpfgakwerere.org was blocked by the junta regime, it can't be accessed unless you are using a VPN.