By: Rpf Gakwerere
Cameroon-born singer and saxophone player Manu Dibango has died from a coronavirus infection, according to a statement on his official Facebook page on Tuesday.
"It is with deep sadness that we announce the loss of Manu Dibango, our Papy Groove, who passed away on 24th of March 2020, at 86 years old, further to covid 19," his Facebook statement noted.
The news of the legendary Cameroonian musician, Manu Dibango testing positive for the coronavirus in France was shared via the artist's Facebook page on Wednesday, 18th March 20. The post read, "After a recent hospital due to the Covid-19, Manu Dibango is resting and recovering in serenity."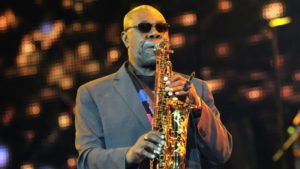 The 86-year-old saxophonist was considered one of the foremost pioneers of Afro-jazz, known for his fusion of funk with traditional Cameroonian sounds.
His iconic1972 B-side "Soul Makossa" was a global hit, which both Michael Jackson and Rihanna famously referenced in their hit songs "Wanna Be Startin Somethin," and "Please Don't Stop the Music," respectively—reportedly without Dibango's permission. He later settled a lawsuit with the artists over their use of the track's hook.