By: Rpf Gakwerere
Earlier today, Journalist Cyuma Hassan Dieudonné and his driver were kidnapped from the streets of Kigali and taken to a safe house for questioning and psychological or physical torture.
Below, photos of handcuffed Cyuma Hassan Dieudonné in a DMI safe house undergoing questioning.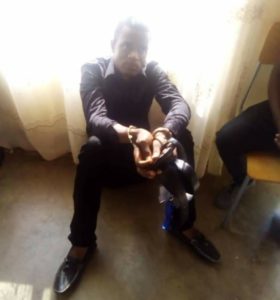 This has been the second time that journalist Cyuma Hassan Dieudonné has been arrested by DMI operatives. The first time, was when he covered the burial of assassinated gospel singer Kizito Mihigo.
For 26 years of his brutal rule, criminal Paul Kagame has suppressed all forms of freedoms. For journalists, if they don't follow regime dockets and line, they are either kidnapped, incarcerated, assassinated or exiled. For independent and impartial journalists, it's next to impossible to practice the professional in criminal Paul Kagame's land.
Questioning Criminal Paul Kagame's bloodthirsty excesses is punishable by incarceration or death. And those in diaspora who still question Criminal Paul Kagame's excesses aren't spared either. For years, the satanic regime has spent millions of dollars in external intelligence operations of tracking, kidnappings and assassinations.