By: Rpf Gakwerere
Potato enclave's notorious Directorate of Military Intelligence and The National Intelligence Security Services (NISS) have appointed Jean Lambert Gatare as editor in chief of criminal Paul Kagame's acidic tabloid of Rushyashya. Jean Lambert Gatera takes over from Burasa Jean Gualbert who died in May 5, 2020. According to sources in Kigali, Jean Lambert Gatare, "journalist" has always worked closely with NISS and this appointment hasn't shocked those in the intelligence circle.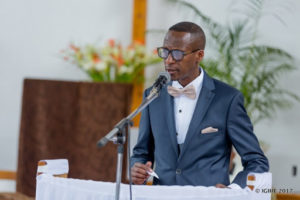 To attract better pay from DMI and NISS, Jean Lambert Gatera has to demonstrate how is more ruthless and nasty than Burasa Jean Gualbert. Being chief editor of Rushyashya means one must be ready to call for deaths against innocent people, celebrate deaths of those who are being eliminated by the bloodthirsty regime and portray criminal Paul Kagame as a demigod. Rushyashya tabloid is all about fabrications, lies, destroying, deaths and celebrating criminal Paul Kagame's demigod status.
Dear oppressed, enslaved, starving and unemployed Rwandans, get ready for a new goon who will be out to prove his worthiness for the satanic system ruling the potato enclave.