By: Rpf Gakwerere
Lt Gen Muhoozi Kainerugaba has reportedly been stopped from commenting on security and foreign policy issues on social media platforms.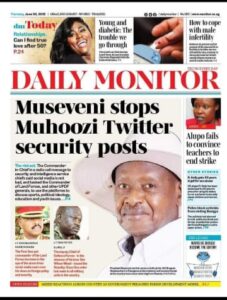 Apart from Twitter issues, in this meeting, the president touched on promiscuity (Jigjig) and alcohol issues; things that Baby General adores and loves to the fullest.
Will Baby General heed to Senior Commander's advice? Will Baby General start respecting the UPDF institution, his rank and the uniform? Or Baby General will remain being Baby General?
Remember, this past weekend, Baby General referred to some of us as traitors, unfortunately, he doesn't know the meaning of that word. A trader of intelligence information uttering this word. Sic!
Imagine a person who works for a hostile foreign state – a skinny criminal ruler of a foreign country referring to innocent law abiding citizens who love their country to the core as traitors!! Sic!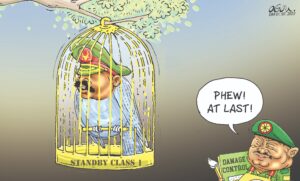 During this meeting, president Museveni encouraged UPDF soldiers to debate on ideology, youth empowerment, patriotism, policies, poverty eradication, intellectual exchanges…etc; concepts that are alien to Baby General. You don't expect anyone being mentored by Criminal Paul Kagame to understand these concepts. They only understand five things, kidnappings, enforced disappearances, torture, assassinations and looting.
What happened to MK2026 circus? What has happened to Mbarara home coming birthday circus? All died a natural death. Are the excited boys and girls tired of partying? We told these young souls that Jjaja is around, Jjaja is going nowhere and the NRM has a well defined procedural route to choose a presidential candidate or successor. Interesting part of this circus, young boys and girls who genuinely believed in this circus were pushed out by those who came with other motives i.e MPs who failed in both NRM preliminaries or General elections, sidelined political elites…etc; who thought would make political entry or comeback through Baby General.
It is at this moment that I always remember words that the late Brig Gen Noble Mayombo used to tell me, "a country or an army can afford and tolerate a stupid Corporal or a none commissioned officer, but a country or an army can't tolerate a stupid General or a commissioned officer."
———————————————————————————————————–
N.B: you can follow me at – Robert Patrick Fati Gakwerere page (Facebook page), @RGakwerere (tweeter) https://twitter.com/RGakwerere?s=08 or at my blog – rpfgakwerere.org.
However, for those in the enclave – Rwanda, the blog rpfgakwerere.org was blocked by the junta regime, it can't be accessed unless you are using VPN.