By: Rpf Gakwerere
Rwanda's special forces, their Mai Mai allies and their Burundian allies of Red Tabara and FNL should forget about ever controlling FIZI region of South Kivu. As I post this, reliable info from the region notes that, Banyamulenge boys are standing very well with new newly acquired toys.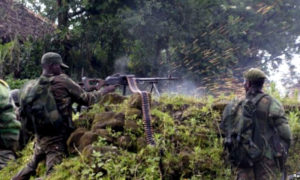 They have been defending their homeland since January of 2018 to present, repulsing different assaults from Rwanda's special forces and their logistically supported allies in South Kivu, and on both occasions, despite being few in numerical numbers with lesser advanced weapons, Banyamulenge boys under auto defence forces of Gumino have stood their grounds. And now, according to sources, the boys have received new toys.
As a source told me, "Kagame and his imbwa should forget about controlling Fizi or ever capturing Minembwe airstrip. This man has been killing us for the last 2 years, killing our cattle and displacing us from our ancestral lands. But we have our God, and is showing us miracles. Please ask all Banyamulenge, all we are going through, it was foretold by our ancestors, and after this tough period, there will be an over lasting peace in the region."
Dear oppressed, enslaved, starving and unemployed Rwandans, criminal Paul Kagame's forces will continue facing military setbacks in the hills and plateau of Fizi. And Kanombe military hospital bears witness. At the moment, Banyamulenge boys are extremely happy for God's miracles and blessings, as they acquired new toys.