By: Rpf Gakwerere
Top Intelligence Chiefs in Rwanda have spent four months without seeing Criminal Paul Kagame, they debrief and being briefed by Co – Vice President Brigadier Gen Willy Rwagasana, and this includes top intelligence chiefs like Brigadier Gen Vincent Nyakarundi, Col Anaclet Kalibata, notorious assassin Brig Gen Dan Munyuza et al.
It was totally impossible, I repeat, totally impossible for Criminal Paul Kagame to spend even a day without meeting his security chiefs, especially when his in Rwanda. What is happening now?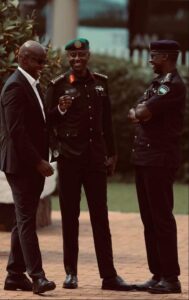 Most of the times, these security chiefs debrief criminal Paul Kagame twice a day. At the top of his career, death merchant Maj Gen Jack Nziza would debrief Criminal Paul Kagame 3 times a day. Criminal Paul Kagame's calendar was always pre-occupied with meeting all types of assassins and under world criminals from different types denominations, from politics, money laundering to mineral smuggling…etc.
It is now unimaginable or unbelievable for a person like notorious assassin Brig Gen Dan Munyuza spending nearly 4 months without meeting face to face criminal Paul Kagame, not being able to have a face to face meeting with criminal Paul Kagame, and him handing communications i.e intelligence reports, briefing and debriefing through Brig Gen Willy Rwagasana, the head of the presidential guard division, and Co President of the impoverished enclave – Rwanda.
A middle ranking intelligence officer told me, "Brigadier General Willy Rwagasana has for months been coordinating all security and intelligence operations. All security agencies brief him and in turn, he briefs the president. Now and then, security chiefs receive calls from the president, but none has met him for face to face meetings. When called at Village Urugwiro for a meeting(s), they end up meeting Afande Willy rather than the president. And these aren't behaviours of his excellency, to avoid seeing his intelligence chiefs."
Criminal Paul Kagame loves to directly question and re-question his intelligence chiefs, and it's beyond comprehension to hear that his intelligence chiefs have spent four months without meeting him.
Dear oppressed and enslaved Rwandans, where is your ruler? Your ruler was obsessed in demonstrating presence to his oppressed and enslaved citizens, suddenly, the ruler has disappeared from public eye for the last seven months, only appearing on doctored pictures and three minutes video clips.
Dear oppressed, enslaved, starving and unemployed Rwandans, where is your ruler who loved limelight?
Corporal is following interesting events unfolding within the enclave – Rwanda. There is a dangerous internal chess game taking place within the satanic system. STAY TUNED.