By Arafat Nzito, Chimpreports.com
President Museveni has appointed former Special Forces Commander, Maj Gen Don Nabasa as head of the Military Police.
"Yes, it is true he (Nabasa) will head military police," said Deputy Defence spokesperson, Maj Ronald Kakurungu.
"We will share details later," Kakurungu told ChimpReports on Monday night.
Nabasa, who has been serving as the UPDF Contingent Commander in Somalia, replaces Brigadier Keith Katungi.
Katungi will take over Nabaasa's position in Somalia.
Nabaasa, a seasoned battlefield commander, returns to Uganda at a time of increased acts of terrorism in the central region.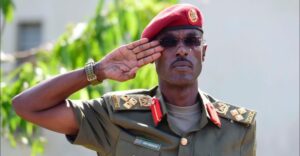 A bomb exploded on a Swift Safaris bus in Mpigi today in a suspected case of terrorism.
The incident came two days after a bomb attack in Komamboga, Kampala, killing one person and leaving several others injured.
Nabasa's return also coincides with planned political protests by the opposition aimed at forcing President Museveni out of power.
Nabasa, who returned from a military course last year before being sent to Somalia, was expected to conclude his tour of duty in December, 2021.
Katungi goes to Somalia
The return of Nabasa comes after the Chief of Land Forces Lt Gen Muhoozi Kainerugaba visited Somalia.
He said the troops were in high spirits but had challenges which he promised to address.
Katungi, a seasoned battlefield commander, previously served in specialised intelligence operations under the Presidential Guard Brigade which later metamorphosed into Special Forces Command.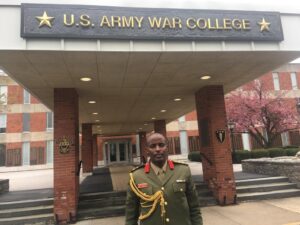 He further commanded several UPDF Units in Karamoja during the disarmament exercise and Rwenzori during the war against the Allied Democratic Forces (ADF).
He was later sent among the first military units to set up camp in Somalia to fight Al Shabaab.
Based in Mogadishu, Katungi commanded military operations that routed Islamist fighters, leading to the capture of the city.
He later commanded the United Nations Guard Unit in Somalia, providing security to expatriates in secured zones and the Aden Adde International Airport.
From Somalia, Katungi was sent to Rwenzori area again where he commanded the 309 Brigade in Kasese district.
He was deployed in Rwenzori at a time ADF militants' activities were gaining momentum in Eastern DRC. At the time, the ADF were attacking UN military bases and even killing peacekeepers.
Former army spokesperson Brigadier Richard Karemire said then there were indications that ADF planned to strike Uganda.
This saw UPDF send heavy artillery, motorised units and Special Forces operators along the Albertine belt to monitor and counter the ADF threat.
Katungi recently completed his National Defence Course U.S. Army War College, Carlisle Pennsylvania.