By: Rpf Gakwerere
The innocent young men below have been incarcerated in criminal Paul Kagame's dungeons for mainly questioning the brutal bloodthirsty regime on social media. They started arresting them since 2018 to 2019. Before being reigned in criminal Paul Kagame's kangaroo court, they went through months of torture and then reigned before Kagame's partial judicial system on fabricated charges of terrorism.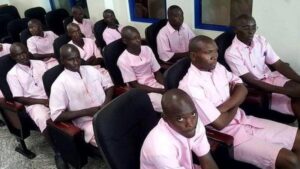 The only thing these young men ever did, was to question the brutal regime of criminal Paul Kagame on social media through their pseudo names.
Criticising or questioning the bloodthirsty 57Kg skinny dictator of Rwanda is a crime punishable by incarceration, torture or assassination. Criminal Paul Kagame has given himself a "demigod" status, and he expects all oppressed, enslaved, starving and unemployed Rwandans to worship him, and those who deviate from this line, they are heavily punished, and a one way ticket to the graveyard being the ultimate punishment.
Questioning dictator Paul Kagame and his satanic system is a personal sacrifice, a noble cause and history will judge positively those who stood against this diabolical Satan that has rampaged and continues to rampage the greatlakes region.