By: Joyce Uwase
The United Nations is a by-product of the "Declaration of United Nations" created first by Winston Churchill, Franklin D. Roosevelt, and Harry Hopkins. Therefore, it's easy to see how the United Kingdom has long held influence within the UN. After World War II, fifty separate allied countries worldwide signed this document to further peace and human rights standards around the world. Since then, nearly every independent country has become a member state of the UN.
Unfortunately, not every member state citizen is always fully aware where their country's designated funds go to — and this is especially the case for the UK. It is important for UN member nations to examine where aid is distributed and who stands to benefit from aid programs. In the example of Project Umubano — a peacekeeping and social action effort started by Andrew Mitchell — the Kagame Regime and the Tories both directly benefited from the project's image being upheld.
Who is Andrew Mitchell
Andrew Mitchell (born 23 March 1956) is a British politician who has been Member of Parliament (MP) for Sutton Coldfield since 2001. A member of the Conservative Party, he served in the Cabinet as Secretary of State for International Development from 2010 to 2012. For activists worldwide, one of the reasons Andrew Mitchell will be remembered is by his coziness with Kagame's regime and his unilateral decision (2012) to re-instate 16M pounds of British aid to be spent by Paul Kagame's government, which was being accused of fomenting conflict in neighbouring Congo where more than 6M people have been killed.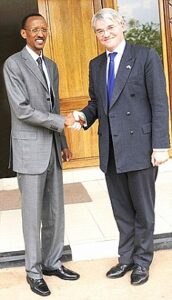 UN Member Nation Aid: An Overview
As part of the United Nations, each member nation takes an oath to uphold basic human rights standards. In return, member countries provide financial and physical assistance to those countries in the wake of disasters and terrorism acts. Rwanda joined the United Nations in 1962 after gaining its independence. It was only a member for a mere thirty years before the Rwandan Genocide of 1994 happened. The genocide was a clear violation of these terms, and Rwanda continues to violate the terms even in the wake of the genocide.
Unfortunately, aid and support from the UK after the 1994 genocide ended up exacerbating the civil war in Rwanda, wherein the effects in the Eastern part of the country are still being felt. Despite Rwandan claims that human rights abuses have been quelled in the aftermath of the genocide, the war, and the subsequent election of President Paul Kagame, it is clear that this is not true and that the Rwandan government continues to violate the conditions of UN Member statehood.
Why Would Andrew Mitchell Have Reinstated Aid Before He Left Office?
The UK and other Western UN nations (like the US) tend to turn a blind eye to Kagame's regime. This is mostly due to the Rwandan government's efforts to cover up any wrongdoings and promote projects that showcase restoration efforts within the country — like project Umubano. In 2017, Andrew Mitchell essentially said that UK aid in Rwanda was outshining the bad that the government has done and continues to do.
David Cameron and Andrew Mitchell both praised and supported Project Umubano, so Rwanda's support has long been a point of pride for the UK, especially for the Tory party. Indeed, the UK has even been known to provide over £80 million annually to Rwanda. But the UK has since begun to scrutinize the Rwandan Government after human rights investigations by the UN, Human Rights Watch, and other organizations. The UN recently caught wind of potential hits placed on former Rwandan activists living in the UK and had to warn and protect them against these hits. As can be seen with the recent Paul Rusesabagina kidnapping, Kagame is no stranger to the continued terrorization of anyone who speaks out against his regime.
Project Umubano masquerades as aid, but with half of the aid going directly to President Kagame, it is easy to see how he is able to continue his domestic and international terrorism against Rwandan Dissidents.
Andrew Mitchell's last act as Secretary of State for International Development is an increasing tactic being used by political parties worldwide to gain and keep control. They utilize aid in unethical ways and highlight the good that the support is doing while working in tandem with allied political parties to drown out the governments' damage. While some of the UK's aid to Rwanda went directly to Project Umubano, nearly half of it went straight to President Paul Kagame and his regime. And as more and more stories come out highlighting the silencing of citizens and former citizens against the Rwandan government, UN country members can only assume that aid is going directly toward those silencing campaigns.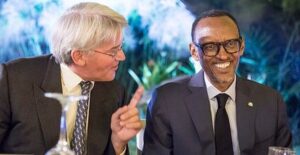 Therefore, all UN Member Country Citizens need to speak out against direct funding of the Rwandan government. Unless the government can agree to protect and uphold freedom of speech under the UN's founding rules, it cannot be the direct recipient of global aid.