By: Rpf Gakwerere
Under Criminal Paul Kagame's rule, when your blacklisted everyone distances him/her self from you, including your own parents. Relatives, friends, side dish(es) and wives become sources of intelligence information to criminal Paul Kagame's bloodthirsty security apparatus.
Potato enclave is a police state where everyone is a potential spy, and enslaved Rwandans pride themselves to spying and reporting each other to the brutal authority. Criminal Paul Kagame's brutal security apparatus follow Stasi menu book, where people spy each other for the purpose of retaining a brutal bloodthirsty regime. Stasi was former East Germany's secret police that was hated and feared in communist East German.
For Gen Patrick Nyamvumba, the day he was dismissed from the satanic regime on 27th April 2020, that is the day his side dish – Soraya Hakuziyaremye blocked and cut communication with the embattled general.
Soraya Hakuziyaremye was a former minister of Trade and Industry, and currently, she is the deputy governor Bank of Rwanda. She has slowly gained the trust of criminal Paul Kagame and she is among few officials in Rwanda with unhindered access to criminal Paul Kagame.
The 27th April 2020, is the same day all inept Kagamist minions and goons stopped using photos of Gen Patrick Nyamvumba in their different profiles. Gen Patrick Nyamvumba's handsomeness had made him a poster boy among inept state goons and minions.
When state goons, minions, side dishes (yooyoos), fake friends, relatives…etc, sniff Kagame's wrath around you; they all cut communication and avoid you like a sufferer of rabies or covid 19 sufferer.
On 27th April 2020, Gen Patrick Nyamvumba turned into a loner as a team from the Presidential guard intelligence unit knocked at his door, arrested him and he was incarcerated at a presidential guard safe house in Kiyovu, Kigali, for three months. He was released from presidential guard safe house and placed under house arrest, where he can't leave his home without asking permission from Presidential guard Control/command centre. According to sources, the only reason to grant permission must be medical related.
In the photo below, Gen Patrick Nyamvumba and Soraya Hakuziyaremye in their good days. Soraya Hakuziyaremye was a former girlfriend to late Musician Jean Christophe Matata.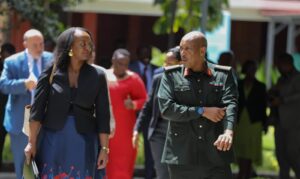 For the Nyamvumba brothers, and how the 27th April 2020 became a dark day for the whole family, and how criminal Paul Kagame went after the whole family, you can read the info in my blog below 👇👇👇