By: Rpf Gakwerere
Today, 5th October 2020, criminal Paul Kagame's office arranged a press conference where the country's chief prosecutor general, Aimable Havugiyaremye told gathered "journalists", how Paul Rusesabagina will be charged for various committed crimes i.e, forming terror groups, terrorism, financing terrorism, recruiting child soldiers, kidnapping and arson.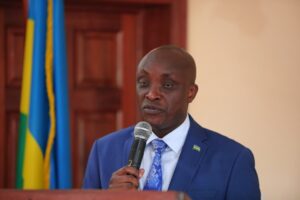 Criminal Paul Kagame's goon, Aimable Havugiyaremye noted, "we have in custody 16 FLN fighters, that include those who were senior commanders and are suspected of taking part in the attacks in southern Rwanda in 2018. And we will be submitting to the court a joint indictment of these 16 defendants, together with Paul Rusesabagina."
Criminal Paul Kagame's chief prosecutor General further noted how the joint indictment will include two other defendants, Callixte Sankara and Herman Nsengimana.
In this news conference, it was evident to notice who was in charge. Goons and minions from criminal Paul Kagame's office were present, including notorious ill mannered Congolese loudspeaker, Yolande Makolo.
This news conference was a PR connectivity rather than a group of individuals trying to demonstrate how the country has an impartial judicial system.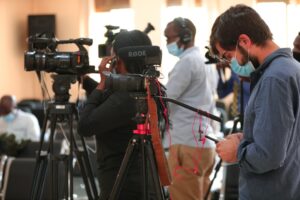 As expected by everyone, this will be a kangaroo court justice circus rather than a system bent to provide fair and impartial justice. Don't forget, up to now, Paul Rusesabagina is still being refused to access his real lawyers who were approved by the family. Instead, two National Intelligence and Security Services (NISS) operatives who were forced on him by the junta regime are acting as his lawyers.