By: Rpf Gakwerere
According to a trusted source, chief assassin IGP Brig Gen Dan Munyuza, who heads Uganda desk within criminal Paul Kagame's security apparatus has received operation funds from the black box funds. Black box is an account for special operation funds.
Ruthless assassin Brig Gen Dan Munyuza was appointed to head Uganda intelligence desk after criminal Paul Kagame sidelining Gen James Kabarebe in October 2018. Then, Treacherous assassin Gen James Kabarebe was the minister of defence at the same time heading the heavily funded Uganda and DR Congo Intelligence desk.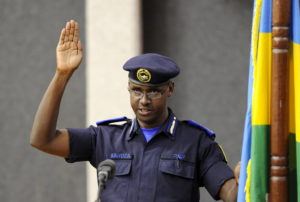 From October 2018 to present, brutal bloodthirsty assassin Brig Gen Dan Munyuza has been heading the Uganda Intelligence desk. And according to reliable source, his intelligence offensive proposal on Uganda was approved by criminal Paul Kagame and funds released.
Since Uganda's general elections of 2001, 2006, 2011 and 2016; Rwanda's external intelligence services, through its Uganda intelligence desk have always financially and logistically supported Uganda's opposition. And this time around, it's not going to be different. Criminal Paul Kagame and his terrorist DMI's approach towards Uganda's 2020 general election will remain the same, the modus operandi will take similar patterns as they did in previous general elections.
In late September 2020, criminal Paul Kagame appointed one of his lethal operative as Rwanda's ambassador to Uganda. This appointment wasn't by mistake, it was a military intelligence appointment rather than a diplomatic appointment.
The new ambassador to Uganda Col Joseph Rutabana is a product of military intelligence assassinations, he is an exporter of military intelligence deaths, he breathes military intelligence assassinations and he cherishes eliminating targets.
Col Joseph Rutabana makes his predecessor, Maj Gen Frank Mugambage look like an angel. Maj Gen Jack Nziza usually brags, "I moulded my son Joseph Rutabana into my own image." Death merchant Maj Gen Jack Nziza was col Joseph Rutabana's mentor. With Uganda desk getting rejuvenated intelligence funds, get ready for all forms of intelligence led insecurity in Uganda.
In the past, Rwanda's bloodthirsty Directorate of Military Intelligence carried out kidnappings, assassinations, women killings, panga/bujambiya men led anarchy – killings, grenade attacks, tapping of communications, supporting key opposition Members of Parliament, supporting opposition presidential aspirants, buying journalists and directing them to write anti regime articles, spread of sectarian propaganda through media affiliates, penetrating security apparatus, buying intelligence information from double agents, all forms of intelligence led sabotage ……etc. All these terrorist crimes were committed in a sovereign country, Uganda, by a foreign state actor under criminal Paul Kagame.
But this time around, DMI jiggers will face their own medicine. Let them stick to their impoverished enclave, and let a sovereign country, Uganda decide its destiny.
————————————————————————————————————
N.B: you can follow me at – Robert Patrick Fati Gakwerere page (Facebook page), @RGakwerere (tweeter) or at my blog – rpfgakwerere.org.
However, for those in the enclave – Rwanda, the blog rpfgakwerere.org was blocked by the junta regime, it can't be accessed unless you are using VPN.