By: Rpf Gakwerere
Today, 28th October 2020, General election is taking place in Tanzania. There is both presidential, parliamentary and local elections taking place throughout Tanzania. However, the presidential election contest is mainly between incumbent President, John Pombe Magufuli and opposition leader, Tundu Antiphas Mughwai Lissu.
John Pombe Magufuli
First elected as a Member of Parliament in 1995, he served in the Cabinet of Tanzania as Deputy Minister of Works from 1995 to 2000, Minister of Works from 2000 to 2006, Minister of Lands and Human Settlement from 2006 to 2008, Minister of Livestock and Fisheries from 2008 to 2010, and as Minister of Works for a second time from 2010 to 2015.
Running as the candidate of the ruling party in Tanzania (CCM), he won the October 2015 presidential election and was sworn in on 5th November 2015. Magufuli's presidency has been marked by a focus on reducing government corruption and spending and also investing in Tanzania's industries.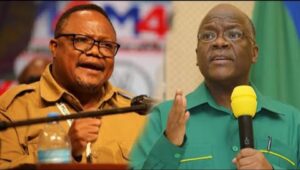 Tundu Antiphas Mughwai Lissu
Tundu Antiphas Mughwai Lissu is a Tanzanian lawyer, CHADEMA politician and Member of Parliament for Singida East constituency since 2010 to present. Currently, his CHADEMA's ticket for the presidential election. Since 2017, Tundu Antiphas Mughwai Lissu became the main image of Tanzania's political opposition, and his messages mainly resonates with Urban youth who have embraced him in great numbers.
In the afternoon of 7th September 2017 during a parliamentary session break, Tundu Lissu, whilst in his car, was shot multiple times and seriously injured by unknown assailants in the parking lot of his parliamentary residence in Area D, Dodoma. This happened merely weeks after Lissu declared publicly that certain people instructed by IGP Sirro had been stalking him for weeks.
Tundu Lissu received emergency treatment for some hours at Dodoma General Hospital before, in fear of his safety, was air-lifted to Aga Khan Hospital in Nairobi, Kenya where he was hospitalized for months before being flown to Belgium to undergo further treatment and rehabilitation. He was hospitalized at the Leuven University Hospital in Gasthuisberg , where he has reportedly undergone nineteen (19) operations to date.
Over the years Lissu has built a reputation as a prominent lawyer, fierce opposition figure and outspoken government critic, especially with his repeated confrontations with the government in President Magufuli's tenure in the country. Lissu was responsible for the research and preparation of the document that revealed the involvement of the state's high ranking officials in plundering of public funds, famously known as the 'List of Shame'. The fierce lawmaker has been arrested at least six times in 2017 alone, accused of insulting the president and disturbing public order, among other charges.
Despite, its challenges and shortcomings, CCM is still my preference.
————————————————————————————————————
N.B: you can follow me at – Robert Patrick Fati Gakwerere page (Facebook page), @RGakwerere (tweeter) or at my blog – rpfgakwerere.org.
However, for those in the enclave – Rwanda, the blog rpfgakwerere.org was blocked by the junta regime, it can't be accessed unless you are using VPN.