By: Rpf Gakwerere
Rwanda's Former Prosecutor General, Jean Bosco Mutangana, a ruthless individual who always celebrated incarceration and imprisonment of innocent people was arrested on Monday, 26th October 20, by operatives from crime intelligence that is head by Rwanda's well known ruthless assassin, CP Egide Ruzigamanzi.
Within legal fraternity, the former prosecutor General, Jean Bosco Mutangana was known as Mr proud due to his boastful and arrogant behaviours.
We all remember his demonic behaviours during different court cases against Rwigara family, when he extremely worked to fulfil criminal Paul Kagame's directives. And when his usefulness was no longer needed, narcissist Jean Bosco Mutangana was dumped on 28th November 2019, and replaced by another inept sycophant Aimable Havugiyaremye.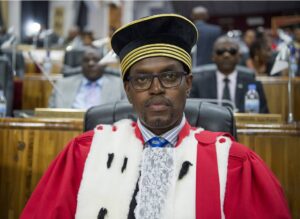 Currently, narcissistic Jean Bosco Mutangana is being held at Metropolitan Police headquarter in Remera, Kigali, where he has been undergoing a thorough interrogation at the hands of the head of crime intelligence, ruthless assassin CP Egide Ruzigamanzi and his team.
His arrest on Monday, 26th October 20, was personally approved by criminal Paul Kagame after being presented with information about his constant whinging on state issues.
After being humiliated and dumped on 28th November 2019, Jean Bosco Mutangana never became the same, he started realising that criminal Paul Kagame has no religion, reality started hitting him. What he has been talking to supposed close 'friends' and relatives are the reasons he was picked like a wet chicken on 26th October 20.
It should be noted that William Mugabo, a hospital manager who was brutally assassinated on 2nd September 2020, around 8:00 PM Kigali time, by field operatives under Dan Munyuza's right hand man, CP Egide Ruzigamanzi, was a family friend to Jean Bosco Mutangana and his extended family. After the brutal assassination, these bloodthirsty assassins took his two phones and left behind his wallet that had more than 100 thousands Rwanda francs.
Reliable sources who are close to this case have reiterated on how Criminal Paul Kagame's intelligence services are monitoring and investigating anyone that used to talk to brutally assassinated evangelical Christian William Mugabo, and this investigation is on the context of messages found on William Mugabo's two phones.
Obviously, the satanic regime has come up with a trumped up charge of a forged document. The issue of forged document is an excuse for the arrest, but the main issue for his arrest its what he has been saying to those he assumed to be his 'friends' and relatives.
Now, Jean Bosco Mutangana is receiving the same treatment he used to accord innocent citizens. Treatment of case fabrications, witness fabrication, coached prosecution witnesses and all forms of injustice. At the moment, his at the receiving end of a justice system that he spent years praising, on several times equating it to western standards.
Like those he wrongly sent to jail, Jean Bosco Mutangana is in Criminal Paul Kagame's cooler, away from his young family, that includes a baby that he was blessed with a month ago.
Jean Bosco Mutangana's case, like thousands of other cases demonstrates how criminal Paul Kagame pays and rewards his goons, minions and sycophants when their usefulness are no longer required.
AS I ALWAYS SAY, NEVER INTERFERE WHEN A MASTER IS DISCIPLINING HIS/HER DOG(S). THE ONLY PROBLEM IT'S WHEN A MASTER GOES AFTER INNOCENT PEOPLE.
————————————————————————————————————
N.B: you can follow me at – Robert Patrick Fati Gakwerere page (Facebook page), @RGakwerere (tweeter) or at my blog – rpfgakwerere.org.
However, for those in the enclave – Rwanda, the blog rpfgakwerere.org was blocked by the junta regime, it can't be accessed unless you are using VPN.