By: Rpf Gakwerere
Eugene Nkubito promoted to Major General by Criminal Paul Kagame and officially becomes the commander of the 1st Division, a division that oversees Kigali and its surroundings.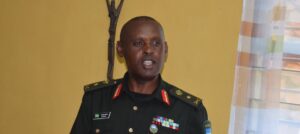 Just Imagine, military operation amateurs like Ruki Karusisi, Willy Rwagasana, Vincent Nyakarundi, Joseph Nzabamwita, Emmanuel Bayingana.…etc, were already Major Generals while a seasonal military operative Eugene Nkubito was still a Brig General.
Brig Gen now Major General Eugene Nkubito has vast military experience both in military intelligence and operations, and in a country that follows rules, the likes of Lt Gen Jean Jacques Mupenzi, a distant cousin to Criminal Paul Kagame would never be senior to Eugene Nkubito.
Criminal Paul Kagame always uses military ranks as personal reward(s) or favour(s) to those he considers and sees to be extremely loyal servants rather than following professional military criteria(s) that guides army ranks promotions.
To Rwanda Defence Force (RDF) boys and girls, just remove – unplug your brains and show delusional support to Chief Satan and pips will appear on your shoulders. Delusional support for criminal Paul Kagame basically means the enthusiasm to kill for him. RDF promotions = to handing your brain to Chief Satan.