By Sully Mugabi
On October 27, 2020, Ugandan businessman Charles Tusubira, was at his residence in Rwanda's capital, Kigali when security services came for him.
Tusubira, the proprietor of a marketing and advertising agency known as Kleenville Media Ltd, has been operating in Rwanda since 2011.
"On that day, two cars full of heavily-armed security men parked at Tusubira's place of abode before asking him to go with them," recalls an eyewitness who alerted ChimpReports this Thursday morning.
Two of the security officials were policemen while one was an Immigration officer. "The rest wore civilian clothes but were armed," said the eyewitness in Kicukiro, Kigali.
"We were unable to identify them (security personnel) since they had their face masks on."
The development has sent shockwaves down the spine of the small Ugandan community living in Rwanda. Ugandan officials, who preferred anonymity to speak freely, confirmed the incident but said diplomats were working around the clock to rescue Tusubira.
"This man (Tusubira) served as the deputy president of Rwanda's advertisers association The Ugandan businessman's current whereabouts remain unclear. Sources in Rwanda said he was being detained in Kigali.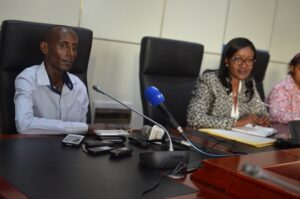 Tusubira also was interrogated by several intelligence officials. Relations between Rwanda and Uganda remain low due to counter accusations of supporting rival armed movements in the region and trade wars.
Rwanda last year accused Uganda of kidnapping and incarcerating her citizens in ungazetted detention facilities without trial. Officials this morning said Rwanda didn't alert Uganda about Tusubira's arrest.
"However, Kampala wrote to Kigali about Tusubira's situation and awaits feedback," said a source. Efforts to obtain a comment from Rwanda's Foreign Affairs Ministry were yet to bear fruit.
According to official records, Kleenville Media Ltd was registered in Rwanda on June 23, 2011.
It was one of the few Ugandan-owned businesses which was considered successful with a sizable number of clients.