By: Rpf Gakwerere.
A Congolese military court convicted a militia leader Ntabo Ntaberi Sheka and two co-accused for serious human rights abuses. Ntabo Ntaberi Sheka who referred himself as 'General Sheka' was well known in eastern DR Congo for his brutal impunity.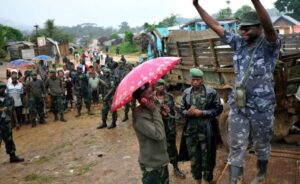 Since 2010 to July 2017, a day he decided to surrender to UN peacekeepers in DR Congo, Ntabo Ntaberi Sheka was being logistically supported by Gen James Kabarebe through Rwanda's deadly Directorate of Military Intelligence (DMI), now rebranded as Defence Intelligence. Notorious Ntabo Ntaberi Sheka was one of several Mai Mai militia leaders who directly reported to treacherous assassin Gen James Kabarebe. Up to present, the long arm of Gen James Kabarebe's presence in DR Congo is overwhelming.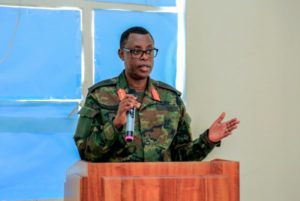 For over six years, Ntabo Ntaberi Sheka controlled mineral trades in areas his Nduma Defense of Congo (NDC) controlled, and the minerals were sold to outside markets through Rwanda, in the usual mineral racketeering trade controlled by treacherous assassin James Kabarebe and his mafia boss, Paul Kagame. On the other hand, Rwanda's Directorate of Military Intelligence supplied arms to Ntabo Ntaberi Sheka and his Mai Mai militia of Nduma Defense of Congo (NDC).
Rwanda's bloodthirsty Directorate of Military Intelligence (DMI), used notorious militia leader Ntabo Ntaberi Sheka in very many dirty operations. It was until when military operation pressure led by DR Congo army, that he decided to hand himself to UN peacekeepers in DR Congo than dying in the jungles of eastern DR Congo.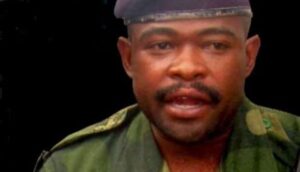 External pressure, especially from International human rights groups, forced Joseph Kabila's regime to hunt Ntabo Ntaberi Sheka down, forcing the notorious Mai Mai militia leader to surrender to UN peacekeepers in DR Congo, and the actual defeat of his Mai Mai militia group – Nduma Defense of Congo (NDC).
This week, on November 23, 2020, a military court in Goma, North Kivu province, found Ntabo Ntaberi Sheka guilty of seven counts of war crimes committed by his militia, the Nduma Defense of Congo (NDC), in Walikale and Masisi territories in 2010 and between 2012 and 2014. The charges included mass rape and sexual slavery, murder, pillage, and recruitment of child soldiers. Sheka's sentence of life in prison delivered a measure of justice for his many victims.
The court also sentenced other NDC commanders, Jean Claude Lukambo, alias "Kamutoto," to 15 years in prison for insurrection and murder. Séraphin Nzitonda, alias "Lionceau," a former member of the Democratic Forces for the Liberation of Rwanda (Forces démocratiques de libération du Rwanda, FDLR) who defected to NDC, was found guilty of rape as a crime against humanity and sentenced to life in prison. Sheka's nurse, Jean Ndoole Batechi, was acquitted.
During the trial, the panel of five judges examined allegations that Sheka's fighters, along with two other armed groups, raped more than 300 women and dozens of girls as well as at least 23 men and 9 boys in 13 villages on the road from Kibua to Mpofi between July 30 and August 2, 2010. The trial also covered attacks between 2012 and 2014 during which NDC fighters killed, looted villages, burned houses, and recruited child soldiers.
As long as bloodthirsty and notorious mafia criminal Paul Kagame is still the ruler of Rwanda, the greatlakes region will never witness any peace.