By: Rpf Gakwerere
In the early hours of 3rd September 2020, while on his way to work, Tito Niyindagiye was intercepted and kidnapped by operatives from Dictator Paul Kagame's dreaded counter intelligence unit. These operatives were in a black double cabin toyota hilux pickup with no number plates.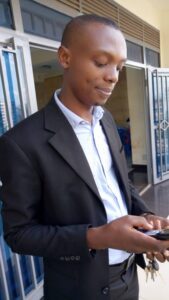 Rwanda police's counter intelligence unit is well known for its gross human rights atrocities, and this is a unit under a well known ruthless #assassin – CP Egide Ruzigamanzi, a right hand man to notorious assassin – Brig Gen Dan Munyuza. Since he was kidnapped on 3rd September 2020, Tito Niyindagiye hasn't been seen by his loved ones.
————————————————————————————————————
N.B: you can follow me at – Robert Patrick Fati Gakwerere page (Facebook page), @RGakwerere (tweeter) or at my blog – rpfgakwerere.org.
However, for those in the enclave – Rwanda, the blog rpfgakwerere.org was blocked by the junta regime, it can't be accessed unless you are using VPN.