In the photo below, on your left in Police Uniform, ruthless killer Brig Gen Dan Munyuza, Gen Jean Bosco Kazura and Gen Fred Ibingira on your far right.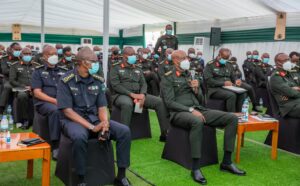 Just look how this house boy corporal Dan Munyuza is seated? A shabby brain dead sicko assassin. Too much blood of innocent people that he usually feels uncomfortable and unsettled when in front of other senior military personnel or in public.
You can see ruthless assassin Brig Gen Dan Munyuza has three mobile phones, the fourth mobile phone is with his ADC. The criminal thug has four sets of mobile phones that he uses to communicate with his network of assassins. But of recently, his slowly being trimmed by his boss criminal Paul Kagame, with the budget for special external intelligence operations that was previously under him being re-directed to DMI (DI) and External Intelligence Directorate which is under National Intelligence and Security Services (NISS).
As usual, lover boy, Gen Jean Bosco Kazura looking smart and elegant. Criminal Paul Kagame's Chief of Defence Staff, Gen Jean Bosco Kazura, known in opposition circles as Chief House Boy, is always smart. Within Rwanda Defence Force, Rwandan boys born in Burundi and DR Congo refer him as 'Baba Fresheri,' others refer him as 'Tonton Fresheri.' Currently, critical military units and sensitive security posts are under Rwandan Boys born and grew in Burundi, and Gen Jean Bosco Kazura was born and grew in Burundi.
At the moment, sickly Paul Kagame has zero trusts of military personnel that have a background with/in Uganda. The ruthless ruler, slowly and smartly shifted security apparatus into the hands of Burundi born Rwandans. It is on this background that you will soon see the back of serial brain dead assassin – Brig Gen Dan Munyuza into the dustbin that Kagame has dumped others.
The photo was taken on 1st April 2021 at Rwanda Defence Force Headquarter in Kimihurura, Kigali, Rwanda, during a general assembly meeting of Army saving bank – Zigama credit and saving bank.
————————————————————————————————————
N.B: you can follow me at – Robert Patrick Fati Gakwerere page (Facebook page), @RGakwerere (tweeter) or at my blog – rpfgakwerere.org.
However, for those in the enclave – Rwanda, the blog rpfgakwerere.org was blocked by the junta regime, it can't be accessed unless you are using VPN.