In the photo below, Uganda's senior mitary Commander and Chief of Defence Forces, Gen David Muhoozi is seated between double agent Andrew Mwenda and Rwanda's Directorate of Military Intelligence agent, Canary Mugume. Is senior Commander safe?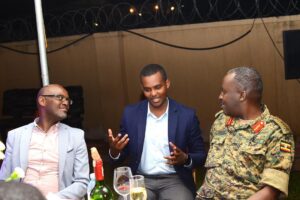 Don't forget, Gen David Muhoozi is a very high target for elimination by a rogue terrorist regime in the region – Criminal Paul Kagame's satanic regime. Safety of senior Commander, as an intellectual property of Uganda is a must – priority, and should be done at all costs.
Close, special and the kind of relationship between double agent Andrew Mwenda and DMI agent Canary Mugume is well known within the city – Kampala. Double agent Andrew Mwenda and Canary Mugume's relationship blossomed in 2017 during Rwanda's scam presidential election, where criminal Paul Kagame stood against criminal Paul Kagame. Andrew Mwenda was in Kigali for Public Relations assignment work on behalf of Kigali's brutal ruler, while Canary Mugume was in Kigali as NBS journalist covering the sham election.
Than becoming an impartial correspondent for Uganda's NBS Television, Canary Mugume became a field public relations officer for Criminal Paul Kagame, reporting what the ruler's office – Village Urugwiro fed him to say. During Rwanda's 2017 scam Presidential election, Canary Mugume managed to turn Uganda's NBS into criminal Paul Kagame's communication campaign tool.
———————————————————————————————————–
N.B: you can follow me at – Robert Patrick Fati Gakwerere page (Facebook page), @RGakwerere (tweeter) https://twitter.com/RGakwerere?s=08 or at my blog – rpfgakwerere.org.
However, for those in the enclave – Rwanda, the blog rpfgakwerere.org was blocked by the junta regime, it can't be accessed unless you are using VPN.