The Congolese government took note, on Wednesday January 18, of the M23's refusal to carry out the recommendations of the Luanda summit, which requires it to withdraw from its positions in North Kivu.
Foreign Minister Christophe Lutundula said so in a press release on the security situation in North Kivu, a copy of which was given to different press networks.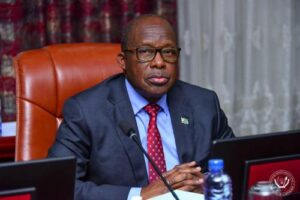 The head of Congolese diplomacy recalled that this rebel movement should leave its positions no later than January 15 in accordance with the programming of the force of the East African Community (EAC).
This withdrawal, according to him, should allow the restoration of State authority in these areas and the return of the Congolese populations to their places of origin.
Some sources indeed inform that these rebels withdrew from the chiefdom of Bwisha and reinforced their positions in two groups of the chiefdom of Bwito: Bishusha and Tongo in particular.
In the same press release, the Congolese government also took note of "Kigali's failure to respect its commitments made at the Luanda mini-summit".
He thus asked the international community to take sanctions against Kigali, which continues to support the M23 and to attack the DRC:
"That the UN, the AU, the EAC, the CIRGL and the bilateral partners assume their responsibilities, in particular by sanctioning, according to their own mechanisms and rules, the Rwandan authorities and the leaders of the M23, who constantly defy them and to violate international law as well as fundamental human rights in eastern DRC".
The Congolese government has affirmed its renewed commitment to the Nairobi and Luanda peace processes to resolve the security crisis in eastern DRC.
He also promised to safeguard the territorial integrity as well as the sovereignty of the Congolese State.
The DRC says it is ready to defend itself by all means, in line with the Declaration of Heads of State, on September 20, at the 77th session of the UN General Assembly.