NEW YORK (May 25, 2021) – This week, the Human Rights Foundation (HRF) sent a letter to the National Basketball Association's (NBA) Commissioner, Adam Silver, expressing concern about the NBA's partnership with Rwanda's dictator, Paul Kagame, to grow professional basketball in Africa by hosting the inaugural season of its Basketball Africa League (BAL) in Kigali, Rwanda.
HRF's letter points out the jarring contrast between the NBA's strong commitment to social justice and its embrace of Kagame, a former warlord who achieved the stability and development credited to him by engaging in atrocities that United Nations (UN) investigators have described as war crimes, crimes against humanity, and possibly genocide. It also highlights how the lives of some members of the NBA family have been upended by the wars and devastation perpetrated by Kagame and his regime.
"Rwanda is run by a warmonger who has excelled at deceiving the international community while perpetrating horrific abuses against his own citizens. It is shocking that the NBA is so quick to play ball with a man as evil as Paul Kagame," said HRF president Thor Halvorssen.
HRF's letter cites numerous reports by international human rights investigators and UN experts establishing the responsibility of Kagame in a long trail of mass atrocities, including launching two wars which led to the deaths of more than 5 million people, a massacre of tens of thousands of innocent civilians in Rwanda and the DRC, including women, children, and refugees, and financing brutal militias involved in the illegal plunder of precious minerals. Notwithstanding, as recently as this week, Kagame claimed that "no crimes were committed" in eastern DRC and sought to discredit the work of the UN.
HRF believes that Kagame is taking advantage of the NBA's prestige to exploit and whitewash his image, distracting everyone from his history of crimes and ongoing repression. HRF also believes that hosting the BAL in Rwanda lends his regime legitimacy and gives it the appearance of stability and openness.
"If the NBA is truly committed to social justice, then it should immediately cease its partnership with the Rwandan regime, begin an open dialogue with the NBA players who have suffered as a result of Kagame's wars, and ensure that future tournaments are held in countries not ruled by murderous warlords," concluded Halvorssen.
The Human Rights Foundation (HRF) is a nonpartisan nonprofit organization that promotes and protects human rights globally, with a focus on closed societies.
Below, HRF's letter to National Basketball Association's (NBA) Commissioner, Adam Silver, expressing concern about the NBA's newly announced partnership with Rwanda's dictator, Paul Kagame.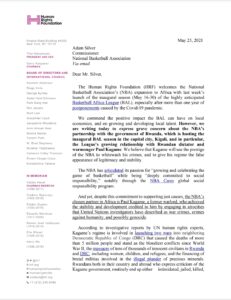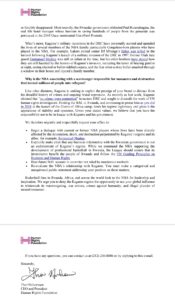 ———————————————————————————————————–
N.B: you can follow me at – Robert Patrick Fati Gakwerere page (Facebook page), @RGakwerere (tweeter) https://twitter.com/RGakwerere?s=08 or at my blog – rpfgakwerere.org.
However, for those in the enclave – Rwanda, the blog rpfgakwerere.org was blocked by the junta regime, it can't be accessed unless you are using VPN.