By: Rpf Gakwerere
Remembering: If memory serves me well it was 1978 when heat wave hit Nakivale and Isingiro area in general. There was shortage of rain, the worst short rain season in decades. During this year, lack of rainfall wiped out pastures, exacerbated food and water shortages. People lost cattle, and those that remained were too weak to be milked and too skinny to be sold. Those who had many cows relocated to other areas especially Bunyoro.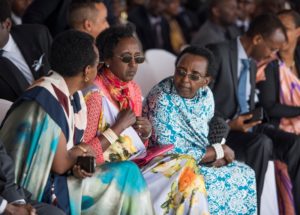 This was the same year that criminal Paul Kagame's sister – Malisi Rutagambwa relocated to live at Mzee Kabutura's house. Mzee Kabutura was a medical assistant at Mbarara hospital, and also had a clinic in Nakivale. Mzee Kabutura's kindness and good hearted behaviours are hard to describe, a pure man of God, an Angel.
Mzee Kabutura is a father to retired Captain Mitima. During Rwanda Patriotic Army/Front liberation war, Captain Mitima was in charge of criminal Paul Kagame's kitchen (head of Kiyungu/kikoni).
Mzee Kabutura is also an uncle to Criminal Paul Kagame's former head of his close protection, Major Kanyoni. Mzee Kabutura and Major Kanyoni's father, Mzee Rushanda are brothers. Major Kanyoni's father, Headmaster Rushanda was a great educationist who shaped the destiny of many children.
Malisi Rutagambwa who was in her twenties arrived in Nakivale from Kamwenge few months before the drought had started, and when it started superstitious banyarwanda started blaming young Malisi Rutagambwa for the drought. They used to say, "kariya gakobwa ka kega katagira amabere niko katuzaniye umwaku," literally meaning that umwega girl without breasts is the one who brought the drought curse. "Umwega/abega" is a sub clan within Tutsi ethnicity. Criminal Paul Kagame comes from abega clan, and some quarters believe that the clan is reminiscent with curses.
Banyarwanda demonised and traumatised Malisi Rutagambwa due to their silly superstitious practices. With all the harassment and stigmatisation, Mzee Kabutura protected criminal Paul Kagame's sister as her own daughter. Unlike criminal Paul Kagame, Malisi is a kind hearted person, totally fair to everyone. Is she happy with her brother's brutal rule? The future will tell.
N.B: Corporal isn't a creator of events, I only share events that happened, events that others know.
———————————————————————————————————–
N.B: you can follow me at – Robert Patrick Fati Gakwerere page (Facebook page), @RGakwerere (tweeter) https://twitter.com/RGakwerere?s=08 or at my blog – rpfgakwerere.org.
However, for those in the enclave – Rwanda, the blog rpfgakwerere.org was blocked by the junta regime, it can't be accessed unless you are using VPN.