By: Rpf Gakwerere
Senior commander, President Museveni delivered an opportunity lecture to military students of the Republic of Zambia Command and Staff College at State House Entebbe. The lecture focused on the ills embedded in the pseudo-ideology of sectarianism and the chauvinism of groups.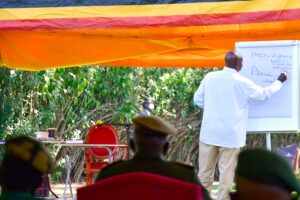 President Museveni noted, "Uganda in the past was diagnosed with the politics of identity, our people had been divided along religious and tribal lines by political parties. Today, it is about fronting people's interests rather than identity, that is why we have a national party – NRM.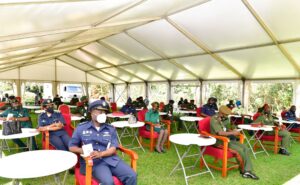 Uganda is now back on its feet because we over-preached the gospel of patriotism, social-economic transformation, and democracy with a VISION. You know democracy without a vision can be inutile."
———————————————————————————————————–
N.B: you can follow me at – Robert Patrick Fati Gakwerere page (Facebook page), @RGakwerere (tweeter) https://twitter.com/RGakwerere?s=08 or at my blog – rpfgakwerere.org.
However, for those in the enclave – Rwanda, the blog rpfgakwerere.org was blocked by the junta regime, it can't be accessed unless you are using VPN.