By: Joan Nandutu at Commandonepost.com
It is now official that Kagame's front man and propagandist Ignatius Kabagambe is a wanted criminal in Uganda over the murder of Hassan Semwogerere, a 19 year old youth, killed in 2016. The murder case file is CRB 1380/2016.
Kabagambe has recently been so engaged with running old tired abusive stories that he thinks can force Kampala regime into negotiations with Kigali on restoration of bilateral relations.
Ignatius Kabagambe, who is long known to be a chain smoker, forgets that he, who stays in a house built with glass, never throws stones. Due to the pain Kigali's leadership is going through as a result of closing their boarder, Kabagambe and others like him who keep using pseudo names, have now turned to insulting Kampala, instead of opening the border as the easiest way of avoiding an internal insurrection that will arise out of a quite, oppressed and hungry population.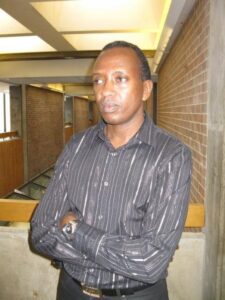 An investigation conducted by our team, shows that the Inept Kabagambe would be dead by now or a nobody in society if it wasn't for the hospitable Uganda, a country he always abuses on different social media page platforms, either using his real names or behind different pseudo names.
For starters, Kabagambe is illiterate. According to those close to him, Kabagambe actually isn't the author of the articles that he boasts of. He pays a writer who writes and gives him a complete article and the old man simply writes his byline before attaching a photo. He has no such intellect and writing ability.
His appointment as spokesperson for the University of Rwanda goes far to show you how Rwanda's Kagame appoints his relatives into public positions, no matter whether they are able to run those offices.
If Rwanda's leadership was smart enough, they should have summoned the dense Kabagambe to answer for using a whole university twitter account to insult a reporter who writes for Uganda's Observer newspaper. That's how dense Kabagambe stoops every day.
People in Mbale who clearly know Kabagambe, point to the fact that he has always faked his academic qualifications right from the time he attended Masaba Secondary School in Mbale, Eastern Uganda up to Makerere University.
In this article and others to follow, we shall carefully show you how Kabagambe has a number of times escaped from Rwanda to Uganda and benefited from Uganda's hospitality. Every time life turns its ugly head at him, he runs to Uganda and engages in business, while doing espionage work for Rwanda to win back favour.
He conducted business with Biashala holdings, though it is believed he sold off all his shares as he planned to skip bail for his murder case, and subsequently fleeing Uganda. He never runs to Tanzania, Burundi, Kenya or DRC. His only hope is always Uganda.
Unfortunately, being the empty-headed man he is, he always abuses Uganda's hospitality with the most recent case being murdering 19 year old Semwogerere.
To make matters worse, he behaves like the proverbial monkey that gets excited on climbing the tree and forgets that its behind isn't covered. Kabagambe who is in his mid-50s is excited, and he slowly by slowly exposes himself as one who left the village, but hasn't released the village out of him.
The very first instance where Uganda warmly welcomed this murder criminal was when he deserted the 1990 Rwanda Patriotic Army (RPA) invading forces in Rwanda to Mbale in Uganda due to reasons of laziness in the struggle and yearning for things on a silver plate.
"He is a deserter. He would dodge the hard tasks in the struggle, and instead concentrate on chasing after young girls, which character he hasn't abandoned up to now.
After he realized that our commanders then would heavily punish him for those acts, he fled to Uganda," said a former colleague of Kabagambe who now works with Inyange Industries, an RPF company in Rwanda.
On deserting the struggle, Kabagambe went to Mbale where he joined his sister and her late husband whose names we shall leave out because in Uganda, unlike Rwanda, we hold people individually responsible and avoid incorporating in family members.
For those readers familiar with the way Kagame's leadership operates, it is totally different from that of Uganda.
When one flees Rwanda or does anything anti-Rwanda, like Kabagambe writes anti Uganda propaganda or threatens Uganda's security, that person's family members in Rwanda usually pay a heavy price which includes, arrests, government selling off their property and denying them jobs wherever they go in the country.
Kabagambe, like many other Kagame propagandists in Kigali, is so dense not to understand that he keeps insulting Uganda, a country that is such a sweeto home to his sisters and other relatives from his mother's side who are happily resident in Kyankwanzi and Ngoma. His own brother Modest Rutagengwa, who stood surety for him in his murder case, runs a high class bar in Ggaba which has handsomely paid off for a number of years.
No one has touched Modest. In Rwanda, Modest would long have gone to meet his ancestors. To explain that further, on the contrary, If a Ugandan propaganda writer with family members in Rwanda did what criminal Kabagambe is doing, his relatives other than Modest would by now be behind bars on fabricates political charges or rendered jobless for the rest of their lives.
That is how inhuman the political system in Rwanda is. Good thing no amount of PR can cleanse the Rwandan leadership of this terrible record.
Like the proverbial monkey, Kabagambe exposed his behind again in an article where he recycles old stories of how Ugandan and Rwandan armies clashed in Kisangani, DRC.
Brilliant minds don't discuss events that occurred and weren't intentioned. Does the victory of whoever won in the clashes bring food on the table of ordinary citizens of both countries? Kabagambe, through his writer whom he gives ideas to put to paper, keeps running out of new ideas and insists on how the boarder closure is instead hurting Uganda not Rwanda.
What would he have said? He wants to be seen to be so patriotic. A simple survey conducted in Uganda shows that prices of major commodities have remained the same, or dropped over the last two years of the boarder closure, compared to the skyrocketing prices of goods and services in Kigali –which primarily is due to the government there opting to import goods from distant destinations, thereby directly and economically impacting on a lay Rwandan.
In our next articles, we shall reveal to you activities he carried out at his Owen bar in Wandegeya in the early 2000s. We shall also detail to you how and why Kabagambe fled to Uganda from Rwanda between 2015 and 2016.
We shall also offer insights and go in-depth on many other incidences like how Kabagambe was involved in cases of theft and buying off academic documents in Uganda.
We shall also show you how terrible his conduct was at Canada's Carleton University where he was on a scholarship for a Master's Degree.