By: Robert Patrick Fati Gakwerere
The government of the Democratic Republic of Congo released images captured by drones on Tuesday, highlighting an alleged incursion by the Rwandan army to reinforce the M23 rebel group.
Government spokesperson Patrick Muyaya says these images show that Rwanda is involved in a "new incursion" in support of the M23, which is showing signs of weakness.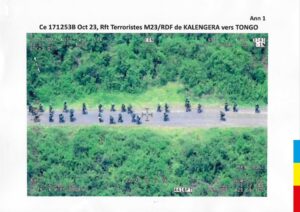 These images echo the statements of Deputy Prime Minister and Minister of National Defense and Veterans Affairs, Jean-Pierre Bemba, who reported similar information last Friday. According to his information, a column of RDF (Rwanda Defence Force) troops coming from Rwanda had been spotted moving towards the Virunga National Park, passing through the Kibumba – Rugari axis.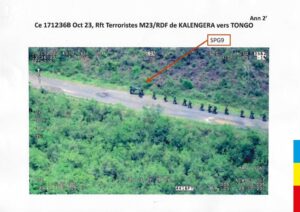 Patrick Muyaya also reported "serial massacres" in the villages of Ruzenze, Bishishe and Marangara, in Tongo groupement, Rutshuru territory, and warned there would be consequences.
According to sources, at least fifty people were killed and houses burned during an attack carried out by RDF-M23 rebels in the Tongo groupement during the night from Sunday to Monday. In addition, on the Kiwanja-Ishasha road axis, at least six members of the same family were killed by a shell dropped by RDF-M23 elements during the clashes.
These events have exacerbated tensions between the DR Congo and Rwanda, with Rwanda's brutal regime describing the actions along the border as "provocation". They announced their intention to maintain defensive methods and prevention mechanisms to guarantee the security of Rwandan citizens.
For his part, Huang Xia, the United Nations special envoy for the Great Lakes region of Africa, stressed to the UN Security Council that the military reinforcement of the DRC and Rwanda, as well as the absence of direct high-level dialogue, are worrying signs that should not be ignored.