By: Rpf Gakwerere
Serial killer Brig Gen Vincent Nyakarundi alias Mubembe, head of Criminal Paul Kagame's terrorist organisation, Directorate of Military Intelligence (DMI), recently rebranded as Defence Intelligence (DI).
His nickname of "Mubembe" was given to him by his peers within criminal Paul Kagame's militia army, RDF. "I first heard the nickname of Mubembe by Burundian boys within the presidential guard, and they may have nicknamed him that due to his resemblance to Babembe," notes a middle ranking military officer. The reference "Burundian boys," means Rwandans born in Burundi. Serial killer Brig Gen Vincent Nyakarundi was also born in Burundi.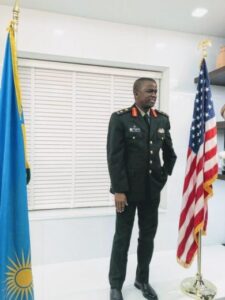 Serial killer Brig Gen Vincent Nyakarundi alias Mubembe was mentored by death merchant Maj Gen Jack Nziza. His path to being appointed the head of DMI terror organisation has been that of kidnapping, torturing and eliminating innocent citizens.
From 1994 to 2009, he worked in nearly all DMI departments, and in 2009, he was deployed as Rwanda's military attaché to the UN, in New York, USA. And in 2015, he was relocated to the post of defence attaché at the embassy of Rwanda in Washington, USA.
Serial killer Brig Gen Vincent Nyakarundi alias Mubembe is among the architectures, planners and implementors in the brutal assassination through poison of King Kigeli V Ndahindurwa in Virginia USA. Brig Gen Vincent Nyakarundi is among the killers who directly participated in brutal assassinations of Joy Agaba Rwigema, on 22nd November 2019, and Kizito Mihigo on 17th February 2020. Joy Agaba was a young sister to assassinate war hero, Gen Fred Gisa Rwigema.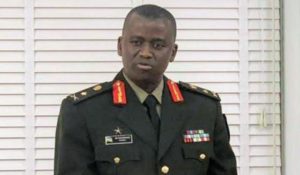 Since being appointed in September 2019, as DMI chief, serial killer Brig Gen Vincent Nyakarundi has planned, and commandeered numerous kidnappings and assassinations in Rwanda and around the globe. Killing of innocent people is his work.
———————————————————————————————————–
N.B: you can follow me at – Robert Patrick Fati Gakwerere page (Facebook page), @RGakwerere (tweeter) https://twitter.com/RGakwerere?s=08 or at my blog – rpfgakwerere.org.
However, for those in the enclave – Rwanda, the blog rpfgakwerere.org was blocked by the junta regime, it can't be accessed unless you are using VPN.