By: Rpf Gakwerere
Today, 11th April 2022, Potato enclave's ruthless killer – criminal Paul Kagame landed in Congo-Brazzaville. Before that he was in Kenya, Zambia, Germany, Egypt, Jordan, Mauritania, Senegal, Rhineland-Palatinate in Germany, France, Belgium back to Germany for Munich Security Conference and Qatar being the first foreign trip of the year.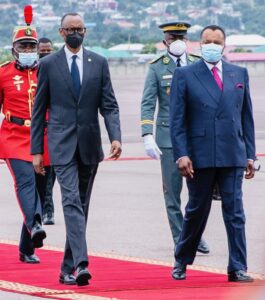 On official records, the brutal ruler has travelled to Germany three times this year 2022, but he has made other three private travels to Germany for medical purposes, topic for another day.
General Kagame travels in 2 Gulfstream G650 he charters from his ruling party's business empire Crystal Ventures. According to https://t.co/M4KJQXvKbH the average hourly rental rate of the G650 is around US$11,400 @ hour.
Each time General Paul Kagame travels outside Rwanda, his ruling party's multimillion business empire, Crystal Ventures Ltd (CVL) makes a fortune from Rwandan taxpayers. The Gulfstream jet in which Kagame shuttles around the world is chartered by the Rwandan government from Criminal Paul Kagame's CVL which boasts that it "delivers an unmatched, world-class aviation experience." In other words, the more Criminal Kagame travels overseas, the more money he milks from the people of Rwanda. The cost of chartering a Gulfstream is as high as US $11,400 an hour in the US market.
During Pre Covid19 era, Criminal Paul Kagame was making an average of known 48 foreign trips per year without including hidden/private foreign trips. For example, in 2019, he made 48 useless foreign trips.
Now, as the world opens up after Covid-19 pandemic, Criminal Paul Kagame is back to his behaviours of relentless useless foreign trips, resuming his mafia habits of looting Rwanda's depleted coffers through endless useless foreign trips.
———————————————————————————————————–
N.B: you can follow me at – Robert Patrick Fati Gakwerere page (Facebook page), @RGakwerere (tweeter) https://twitter.com/RGakwerere?s=08 or at my blog – rpfgakwerere.org.
However, for those in the enclave – Rwanda, the blog rpfgakwerere.org was blocked by the junta regime, it can't be accessed unless you are using VPN.