Criminal Paul Kagame, don't just sack – suspend this ruthless goon of yours, please send him to where you always send innocent Rwandans.
This ruthless killer Bamporiki Eduard has participated in giving fake intelligence information to criminal Paul Kagame, the fake intelligence information that have led to brutal assassinations of innocent Rwandans.
Letter from Rwanda's Prime Minister stating that Criminal Paul Kagame has suspended his notorious goon due to mismanagement of public funds
Eduard Bamporiki participated in the kidnapping, incarceration and later the assassination of gospel singer Kizito Mihigo, Eduard Bamporiki participated in the imprisonment of Karasira Aimable, Eduard Bamporiki participated in imprisonment of journalist Cyuma Hassan, Eduard Bamporiki participated in the kidnapping and brutal elimination of poet Innocent Bahati..….etc.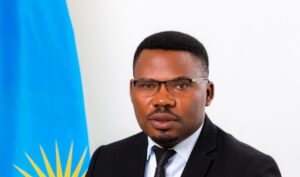 This ruthless goon – Eduard Bamporiki has participated in all sorts of human rights atrocities in the name of serving his authoritarian boss – Criminal Paul Kagame. Now, his services are no longer required.
Never interfere when a master is disciplining his/her pappy. Dictator Paul Kagame should punish this ruthless, unethical and immoral goon as he wishes.