Photos below illustrates one of a key difference between President Museveni and the Grand Satan ruling a poverty stricken potato enclave South West of Uganda. Neptunes usually compare President Museveni the Grand Satan of the Potato enclave. These are incomparable in all aspects, light and darkness cannot be compared.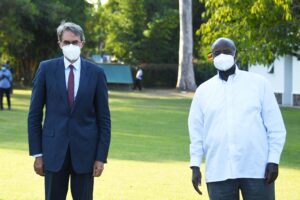 President Museveni doesn't fear to engage critics, meet critics, debate with critics or to seat down with critics. For the 57Kg skinny Grand Satan ruling the Potato enclave, critics to his brutal and corrupt rule must either be incarcerated or eliminated.
For years, the 57Kg skinny Grand Satan blacklisted Human Rights Watch executive director Kenneth Roth as an enemy of his autocratic regime, and we all know what happens if you are blacklisted by 57kg Grand Satan. The constant written and verbal attacks against Kenneth Roth by 57Kg skinny dictator and his inept goons tells you the deep hate they have on Human Rights Watch and its executive director.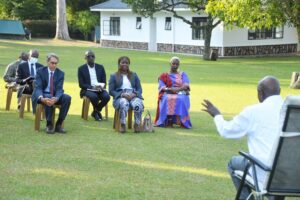 Meeting the Executive Director of Human Rights Watch, President Museveni noted, "I met the Executive Director, Human Rights Watch Mr Kenneth Roth and his team in Ntungamo yesterday. They shared with me a report which contains among other things; information on alleged torture and human rights violations.
Cases of illegal detention, torture and human rights violations will not be tolerated. Torture is not only wrong but unnecessary. We shall verify the findings of this report and act accordingly."